AMM-F1/F2 (FREEDOM SERIES) carburetor manifolds for the Harley-Davidson Milwaukee-Eight engine
New AMM-F1 and AMM-F2 FREEDOM-SERIES manifolds enable you to upgrade HD Milwaukee-Eight engines to carburetor for improved performance, efficiency and reliability.
Supported carburetors are Ultima R1, Ultima R2, S&S Super-B, S&S Super-D, S&S Super-E as well as S&S Super-G.
| | | | |
| --- | --- | --- | --- |
| AMM-F1 manifold fits: | Ultima R1 | S&S Super-G | S&S Super-D |
| AMM-F2 manifold fits: | Ultima R2 | S&S Super-E | S&S Super-B |
All AMM FREEDOM-SERIES manifolds feature a provision to install our AMM-L1 Precision Lambda-Regulator (shown in pic) for superior fuel-efficiency and emissions-performance. The original HD® oxygen-sensor of the rear-cyl. exhaust pipe is used to control the AMM-L1.
Compatible ignition systems with this setup include our AMM-P3 as well as AMM-P2 and AMM-P1 universal-performance systems.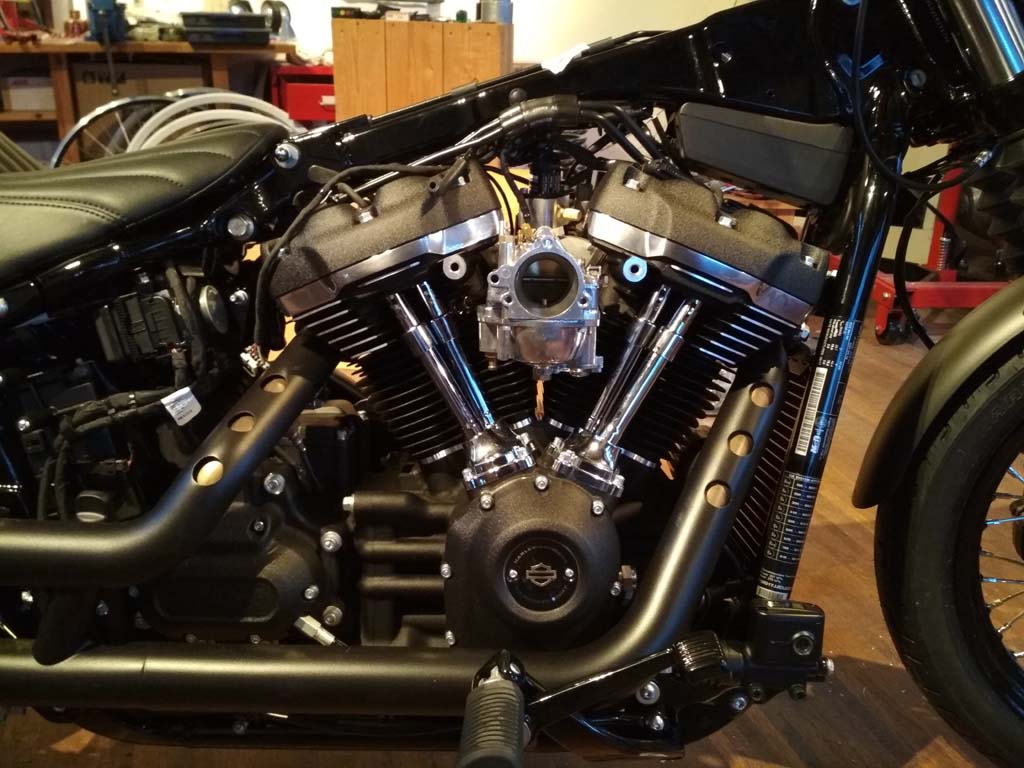 Please use out email for questions and ordering.
ALTMANN MICRO MACHINES ... Dipl.-Ing. Charles Altmann ... Erlenstr. 15 ...42697 Solingen ...Germany
phone +49-212-233-7039 ... email