The ALTMANN "SPLIF" Amplifier Topology
You should get yourself a beer now, and fire up your soldering iron, because now we gonna have a ball...
Here's your map:
Introduction
The feedback is what my idea deals with
What most of us have
Introduction
Hi there, my name is Charles Altmann, and this is my lucky opportunity to share with you what I have discovered lately.
You can of course skip this intro, and go right to my idea.
I have been tweaking with audio amplifiers for some time. Although I have studied electronics some years ago, as I started with amps, I had no idea of how an audio amplifier would function. I don't even know, why this subject attracted my attention.
One of my first approaches was using a Burr Brown Opamp and driving a push pull pair of Mosfets with it. This worked, but was restricted in output power, since the supply rails of the Opamp have a limited voltage.
I thought, I'd just use another OP with higher supply rails, but all the OP's I have tested did not sound good.
Then I stumbled upon Nelson Pass's article DIY-Opamps. This allowed me to make my own opamp with its own characteristics by just using 3 Transistors. I wondered, that this simple approach worked and the sound of the 3 Transistors seemed to me as good as the Burr Brown audio OP, that I had used before. With 3 Transistors you have a little hum in the output, but the article showed how to introduce a current source, to eliminate the hum and further improve the sound. Doing this I learned, that an Audio amplifier is nothing else than a special version discrete Opamp.
With this in my package I have buildt some more amplifiers. I bought 2 good books: the "High-Power Audio Amplifier Construction Manual" by Randy Slone and "Valve & Transistor Audio Amplifiers" by John Linsley Hood.
By that time I had already learned that any audio gear generates 2nd harmonics that are told to sound good and 3rd harmonics that should sound bad. In Slones Book all designs are described with the actual output of 2nd and 3rd harmonics that this or that amplifier would give. I have read, that a push-pull output pair attenuates 2nd harmonics leaving 3rd harmonics dominant, and that a dual-differential input stage is able to attenuate 3rd harmonics.
I also got these cool speakers from my friend Stefan. The Cabasse Goelette. A speaker that is not tested in the mags. And when it is tested, then they give it a bad review. The reason for this is the bad sound coming out of the Goelette most of the time, but the reason for the bad sound is not the Goelette itself, but the bad signal that you feed into it.
Garbage in, garbage out.
The Goelette actually lets you immediately hear any presence of overtones, and if these are not carfully adjusted (by the designers of the amps & sources) the Goelette will be able to kill you. How often did I want to throw that damn speaker out of my lab. But it was my best teacher. It is one of the best speakers for research. And it can really sound great, if the feed is adequate.
I have treated the complete front of my Goelette with C37. This is a lacquer, developed by Dieter Ennemoser an austrian sound researcher (and violin maker). The C37 treatment has done a great job on my speakers in terms of "balancing the sound". You cannot hear, that there are different drivers anymore. It seems, that all sounds, high and low come from one source.
I have then buildt some amps (basically one amp, that was endlessly reconfigured) with the dual-differential input stage and a push-pull Mosfet output. Some of the desings (by Slone) had extraordinary low distortion specs. but I did not really like the sound. For me it sounded pale, no spice in there, not colorful. I had the feeling, that I can crank the volume up, but will not be satisfied. Although there was lots of power, it was never really loud.
Then I modified the amp (making it simpler), so that it could give me some distortion. I liked that more. The sound is more free, if you add distortion. But if you make it loud, it will really nerve you.
By the time I had visited the High-End show in Frankfurt, Germany and discovered, that the sound I liked most was always generated by small single-ended tube-amps (SET in the following text). If you are visiting a fair with music in every room, you can easily compare the sounds. I bounced between the rooms, and soon realized that there was something very musical, that the SET amps could do, and the transistor amps (that I heard on this fair) were not able to accomplish.
I have then bought a SET kit from Assemblage and was quite happy with it. I also recently bought a very nice Zen amp as a kit. Now I could compare some sound characters between the SET and my transistor amplifiers. The transistors did sound inferior concerning the tone (thin), and in something else that I could not figure out at that time.
So you may ask now, why I further explored into transistor amps, if I already knew, that they sound inferior.
Well I don't know. I just had to.
I thought it would may help me to hear the tone of a single transistor, to do something single ended. I did some experiments with the Pass "Son of Zen" amp. Since this is just a single differential pair I could actually hear the tone of the Mosfets (I used Toshiba and Siemens) transistors. I did not like the sound. The tone was thin, no body. And there still was something, that I could not describe, but I knew that it was wrong, and it was in every transistor amp that I have heard this far.
The SET had a quality, that I had not found in any transistor amplifier. This quality I felt, had nothing to do with the tone itself, but somehow with the outflow of the tone.
So what could I blame for it? The transistor? The single ended approach? Or the differential pair?
In absence of a better knowledge, I blamed it on the differential pair.
Then I buildt an experimental version of the Hiraga 20W. This has no differential pair and it is fully symmetrical. I thought this would maybe also cancel 3rd harmonics . I saw similar desings by Borbely and very similar designs by Accuphase (load a pdf of any amplifier) , at least concerning the input stage.
I really like the Hiraga 20W. It is capable of painting a holographic picture of the music, so that you can exactly hear, how the drummer or the percussionist has arranged his set. This drum is positioned 20 cm higher than the snare. The height of the cymbal is 120 m, and it is positioned 30 cm in behind and a little left. Crazy stuff, I like it very much although in my Hiraga amp, the holographics were traded with quite high distortion. The distortion actually was the generator of this 3-dimensional effect.
I wondered how Hiraga did this, maybe it is the Sziklai connection in the output stage. I changed the output stage to a common bias connection (no class A anymore) and the holographic dimension was gone to normal.
However, it was this Hiraga amp that I was tweaking with, when this crazy idea came to me. On that day, I got up early in the morning, something that I generally never do, but I could not sleep, I was drunk from the past night, and somehow I had to fight with this little amp.
Then came the idea. From above (or from the funny small pyramids, I got from my friend Richard).
Quite silent. Small fragile idea... has to do with feedback....
The Feedback is what my idea deals with
Feedback is good. Especially negative feedback. Especially global negative feedback. It makes the amplifier linear. It makes the amplifier fast. It lowers distortion. It must be used at all cost. Its just a great invention, maybe the greatest in audio.
How true!
Feedback is bad. Especially negative feedback. Especially global negative feedback. It enables the loudspeaker to speak back into the amplifier. It messes everything up. There is no more music coming out. It must be avoided at all cost. It is just a great culprit, maybe the greatest in audio.
How true!
Now you think: "What the heck is this crazy guy telling me". Hold the line, I will let it flow out now.
What most of us have:
It looks like this: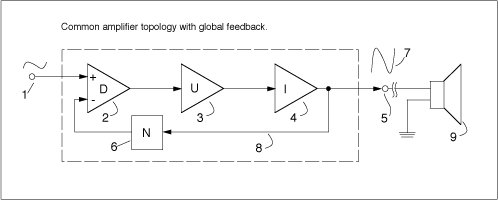 A nice little amp, or maybe a big one. As you see, I keep my drawings simple.I can do that, because the idea that will soon permeate through you, is also simple.
Our amp has an input stage (2) a voltage amp (3) and an output stage or current amp (4). The feedback signal (7) is taken from the output (5) of the amp, and fed back to the input stage via the feedback line (8) and some kind of a feedback network (6). The loudspeaker (9) is connected to the output of the amp.
This is what they call global negative feedback. Its global, because it loops around the entire end from output stage to input stage.
Such a global feedback amp can have excellent properties, such as low distortion or any distortion you like. And you can make it inherently fast, because you are able to determine its overall gain with the negative feedback.
The only thing, that draws you back with this amplifier topology is, that the loudspeaker is also directly coupled to the feedback line. Of course it is, since it has to be connected to the very output of the amp, and this is where the global negative feedback line (8) starts.
But why is this bad, since the amp is able to control the loudspeaker? YES, thats exactly why it is bad:
THE AMP TRIES TO CONTROL THE LOUDSPEAKER

and

THE AMP REACTS WITH THE LOUDSPEAKER, ALSO AFFECTING STABILTY
Let me do a really silly comparison:
Imagine you are an engineer and you have studied at a very good university. Now you have your diploma, maybe you are "summa cum laude" and you found a great interesting job. Your boss wants you to construct a huge bridge for a new highway.
It is a delicate job, since you have to do all the calculations and are responsible that this bridge will be safe, and that the whole project will be a success.
You are self-confident because you know, that you are qualified for doing it. But then something bugs you:
Your Boss is always standing behind you. Directly behind your chair. All the time looking what you are doing. Asking you if the calculations are okay. Controlling what you do, how you do YOUR job. You think by yourself, he should get lost, and if he thinks he can do it better than you, then HE SHOULD ACTUALLY DO IT HIMSELF and not bug you with unnecessary questions, criticism and proposals.
Soon this will nerve you so much that you may loose concentration and you may do a mistake, a wrong calculation. Then the whole project will be in danger, the bridge may not be okay.
---------- NOW imagine you are a very fine loudspeaker, extremely valuable and from a very good company, and probably hand-made. You are more than able to play any kind of music with immaculate performance.
One day you are bought by someone, who seems to value your qualities, and connects you to an amp with global negative feedback that same day.
You are now going to play the music, that the amp gives you. Nothing special. Your Job. You are more than qualified (as a loudspeaker).
But what is this, THIS AMP IS DIRECTLY STANDING BEHIND YOU, LOOKING WHAT YOU ARE DOING, HOW YOU ARE PLAYING THE MUSIC. THE AMP CORRECTS YOU. IT TELLS YOU HOW TO DO THE THINGS THAT ONLY YOU ARE CAPABLE OF.
And in deep pain, you think yourself:
IF THIS AMP THINKS THAT IT CAN DO IT BETTER THAN I (the loudspeaker), WHY NOT LET HIM PLAY THAT MUSIC ALONE?
And let me tell you, YOU ARE RIGHT.
As you see, there is a conflict in competence, a subtle fight between the amp and the speaker.
And where ever is a conflict there is stress. Not only between the amp and the speaker.
Unfortunately it will stress over to the listener.
What some of us have:
It is somehow this: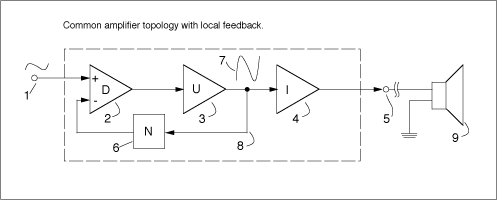 This looks like the amp above. I will not further bother you with numbers. But there is a difference. The feedback signal is not captured from the output, but from some previous stage. The negative feedback does not loop around the whole amplifier topology. Therefore it is called local. It doesn't matter if this is class A or B or AB or if it is push-pull or single-ended. There is at least the output stage that is not within the feedback loop.
THE AMP DOES NOT CONTROL THE SPEAKER ANYMORE. IT ONLY HANDS THE MUSIC SIGNAL OVER.
Amp to speaker: "HERE'S THE MUSIC, I MADE IT STRONG, NOW SEE THAT YOU PLAY IT"
Speaker to amp: "THANK YOU"
The music can flow now. And the speaker will be able to do his job himself.
The drawbacks:
There may be more distortion (SET), since the amp does not know, what happens at the output.
or there will be less output power (SET)
or both, like with SET, but still I like it.
What we all should have:
Now this is it: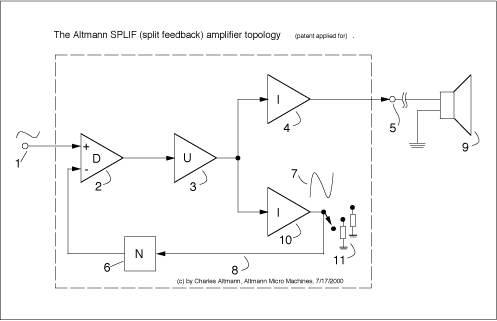 Now what have I done?
I have simply doubled the ouput stage (the current amplifier). Two output stages (4&10) are driven in parallel. I can simply do that without introducing significant distortion, because these are just followers.
The switchable or replaceable local load (11) should be a high quality non-inductive resistor, that matches the load of the speaker. You can also let the ouput operate without load. Feel free, to play with it.
Now I have one ouput stage (4) for the loudspeaker with zero feedback applied !
And I have another output stage (10) only for generating my global feedback signal !
YES, it is global negative feedback over the whole amplifier topology !
But at the same time, it is ZERO negative feedback from the amps ouput !
Now you need a second beer. Your soldering iron should have warmed up by now.
Lets give us a small break...this stuff has to echo within our music-loving hearts.
small

B

R

E

A

K
The SPLIF (split feedback) topology has all the benefits of global negative feedback.
Like good linearity, very low distortion (or the distortion you like) and as much power, as you desire.
The SPLIF (split feedback) topology has none of the drawbacks of global negative feedback.
It does not try to control the speaker. It does not even notice, that such thing as a speaker exists.
Stability problems from reactive loads are not an issue with the SPLIF amplifier topology.
Yes it seems to be too good to be true, but there is even more to come:
By connecting the outputs of the output stages (4&8) with a switch, you can switch feedback on and off.
So you will actually be able to actually hear, what feedback does.
You can do it yourself with your existing amp.
Yes, its true. If you are a DIYer, you can modify your existing amp to the Altmann SPLIF topology with little or no cost involved. And the modification is reversable or you may even do it switchable.
Its my gift for you. You are invited to email me your results.
The SPLIF (split feedback) topology is especially suited for bi- or even n-wiring.
Its done like this: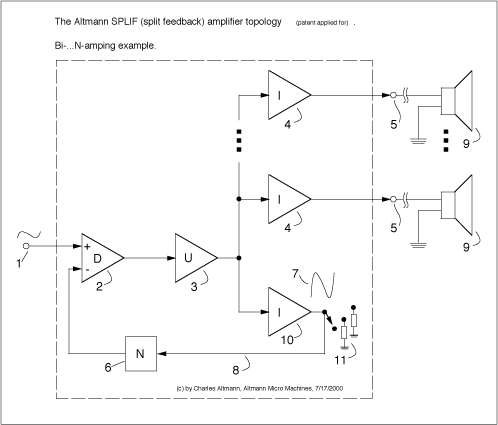 Well, you can drive multiple systems without feedback and without interactions.
No matter what speakers and crossovers.
Do I need to say more?
How is the sound?
If you want to hear it yourself, and your soldering iron should be already hot by now, and if it was not too many beers until here, you can swap this and jump directly to the modification directions.
There is an obvious change and a subtle change:
The obvious change is that imaging will be nicely improved, and you may encounter a more airy high-frequency response. This is what most people will hear upon first listening.
Then there is the subtle change:
This is for me the most valuable.
The music will flow now.
The character of the tone of the (modified) amplifier will not change, but the flowing of the tone will change subtly dramatically.
The music is released, its free. You will like it. The more you listen to it, the more you are going to like it.
Then you will feel, that you need it, because:
THE FATIGUE IS GONE
Something that I felt inherent in any transistor amp I heard until that day, and that I was not able to put into words, was gone. The fatigue had disappeared.
And I only could tell myself what it was, since it was suddenly gone.
There are more changes in the sound:
Bass. Real bass. So bodyful. So powerful.
Voices. So real. So living.
Ambience. The joy of the musician and the living audience.
What have I learned from this?
This experience made me rethink all amplifiers that I have buildt before. The low distortion types, that sounded boring to me before (when feedback was still applied), do sound very good, if feedback is disconnected from the speaker.
How do I modify my amp to the Altmann SPLIF topology?
Now that you know, that you have to do it, only the "how" is missing. The soldering iron IS HOT NOW, but first the...
WARNING:
Check the following questions, and don't start with a $30.000,- amp.
Have you grasped the concept?
Do you know electronics?
Do you know how amplifiers work?
Do you know how the specific amp works, that you now want to modify?
Do you have practice in doing amplifier modifications?
Do you have another amp, in case you mess around and blow the whole thing up?
If one of the answers is "no", let someone else do the job (forwarding all info that's on this site), since I will not be in any way responsible for the outcome of this challenge.
Okay, you have been warned. So lets do it. Its easy.
Most of you have a push-pull output stage.
I will only describe the modification for push-pull output stages by now.
This can be made of BIPOLAR or MOSFET or IGBT Transistors.
They all work with the Altmann SPLIF technology. Mosfets and IGBTs are especially suited, because they have an isolated gate, i.e. no base current.
That means that the speaker will be absolutely invisible for the amp.
The output stage of your amp can have one single push-pull pair per channel or multiple paralleled pairs.
Lets start with multiple parallel pairs. Its most easy.
Looks like this: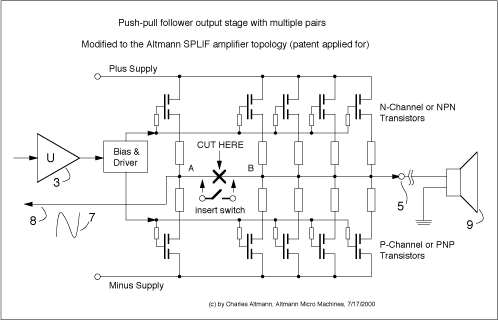 What ??? That's all, one cut and optional switch? Basically yes.
What have we done? We disconnected one push pull pair (A) from the rest (B).
Now we have two output stages, driven in parallel (A & B).
One stage (A) generates the global negative feedback signal (7) and sends it back to the amp via the feedback line (8).
The other stage (B) with the 4 (in this case) residual push-pull pairs drive the speaker with zero feedback applied.
Cool so far, but we have to check some things now:
1) Check if there is any significant DC offset at the amps output (5). If yes, adjust it.

2) Check if bias is appropriate for both output stages (A) and (B). If one of them is underbiased, you will get nasty distortion.

3) Check DC offset at (5) again, and adjust if necessary.

4) Stability should now be improved, but you have to check for oscillations. We want a good job done.
If you want to use the switch, for putting feedback on and off, look out for the DC offset at both switch settings. Adjust for best compromise. It was no problem with my experimental amp. It is just like the one shown on the drawing.
If DC offsets are properly nulled, you can even switch feedback on and off, while playing music, and there will only be a very small nice sounding click.
You can now listen to your new amp, and find out if I am a liar or not.
Before you close the whole affair, take a look at your amps schematics, to see if it has any loudspeaker protection circuit. If it has, you should check that it is connected to output stage (B), the one that actually drives the speakers. By doing this be sure that you do not apply feedback again to output stage (A), since this should have no connection to the speaker. If you did it right, then by closing the switch, output stage (A) will be connected to feedback line, protection and speaker, and when opening the switch, (A) is connected only to feedback. (B) should always be connected to he speaker and the protection, regardless of the switch setting.
Nice.... it's so nice.
You can also apply a load, a high quality non-inductive resistor from output stage (A) to ground, for giving the push-pull pair of (A) the same loading as one of the 4 residual pairs of (B). To do this, multiply your speakers impedance (i.e. 8 Ohm) by the count of (B) pairs (this is 4). The result is 32 Ohm that should be applied to (A) for load matching.
If you apply this resistor to output stage (A), and you hear distortion with feedback switch open, then you know that the push-pull pair of (A) has not enough bias. Readjust Bbias then.
If everything went as planned, you have a very very cool amplifier now. A SPLIF (split feedback) topology. Your wife will not see you for some time, since you have to explore into the flowing tone...
Email me your results, please.
Two parallel pairs we need at least
So if your amp has only one push-pull output pair per channel, you need to install a second one: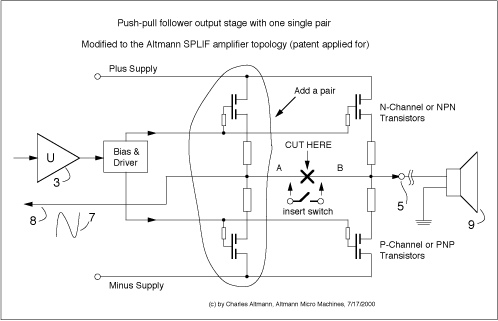 It is a little more work, but it is worth it. I also would recommend to start with a smaller amplifier like this. Its good for learning about it, before you accidently kill your flagship.
Okay, we have added a second push-pull pair. The best way to do this, is to exactly copy the first pair. This includes taking transistors of the same type and (if possible) from the same manufacturer. Also try to use the same resistors.
The second pair needs the same cooling as the first. They should be on the same heat-sink.
The output of our new stage (A) can be disconnected from the old stage (B) with a switch. Thus leaving feedback generation to (A) and zero feedback loudspeaker driving to (B). I like it.
Check if there is a loudspeaker protection circuit in your amp and try to use it by following the above description.
Check for oscillations. We have included a new stage now. If necessary do some fine-tuning.
Check DC-offset at the output (5), proper bias of (A & B), again DC offset.
If you want, you gan give (A) the same loading as (B) by using a high-quality non-inductive resistor of the same value as your speaker is. You can also play around with values, but use proper wattage, since this will dissipate the same amount as your speaker (if you want to go really loud).
That's it.
Please, feel free to email me your results. Thanks.
Where can I buy a new Altmann SPLIF amp?
Sorry my lab is too small for builing amplifiers. So just forward this page to your favourite amplifier manufacturer.
Since I have a patent application running on the SPLIF amplifier topology, I am able to license it.
Manufacturers have to apply for a licence registration by this email. The licence fees are very small.
Join the discussion
I would prefer, that you first build your Altmann SPLIF amp, so that we have a common background for discussion. But we can also talk about it beforehand.
Other funny things from Altmann
Okay let's do some advertising at the end of this crazy page.
Lately I have invented the JISCO, a small (great) revolution concerning digital audio interconnection, and performance.
I have made the Altmann Superlative DA Converter some time ago, it is the first device, able to overcome typical pitfalls of DA conversion.
If you are a Harley Davidson enthusiast, I have something very special for you. It's here.
I have also written the software and concept for this world leading pressfitting system.
Some years ago, I developed the software and user interface of this high-security locking system, the Fliethomatic.
When I started my business, I made development tools for the Mitsubishi M377xx series of microcomputers.
I have made a miniature control module, called the Sxx-MICRO-MODULE.
And a miniature module for the Hitachi Super-H 32-bit RISC controller, called the SH70xx.
For this one I also offered an in-circuit adapter.
Thanks for joining me. I hope you enjoyed it.... and still do.
Best wishes, Charles Altmann.