The AMM-P1 UNIVERSAL-PERFORMANCE IGNITION-SYSTEM

Recent installations:
2019 Indian Thunderstroke 111 cui 49° V2 1,8 litre engine
1977 Opel C-Kadett 4 cyl. 2,4 litre engine
1984 Volkswagen VW Golf II 4 cyl. 1,3 litre engine
1990 BMW R80 2-cyl. boxer
1973 Dodge Challenger 5,6 litre V8 (340 cui engine)
1969 Cadillac DeVille 7,7 litre V8 (472 cui engine)
1966 Ford Mustang 289 cui engine
2015 BMW R NineT (R1200R boxer engine)
2006 Harley-Davidson 1450cc Twincam 45° V2
1988 BMW K100
1942 Lambretta 1-cyl. NSU, 6Volt, no battery
2015 Royal-Enfield Bullet 500 UCE unit-construction-engine
1940 Indian Four
1966 Rolls-Royce Silver-Shadow 6,23 litre V8
1982 Harley-Davidson 1340cc Shovelhead 45° V2
1945 Indian Chief 42° V2
1972 Chang-Jiang CJ750 2cyl. flathead
2005 Royal-Enfield Bullet 500 1-cyl. 4-stroke
... etc .. etc ...
AMM-P1
The universal high-performance ignition-system for cars, motorcycles - 1 through 12 cylinder configurations!
The AMM-P1 is not only the world's most versatile ignition system, it is also the ignition your engine needs to perform best !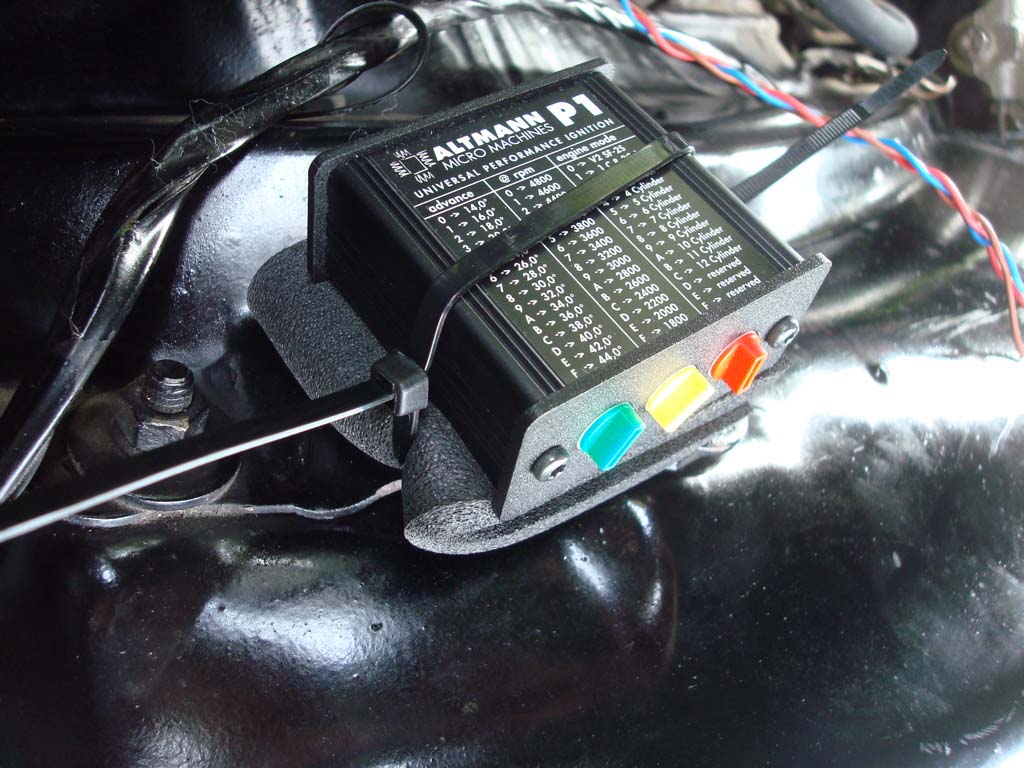 Shown above: AMM-P1 module ready for action!
The AMM-P1 is a universal performance ignition system suited for
all 3..12 cyl. engines that have a cam-driven ignition distributor (all oldtimer cars and motorcycles)

all 1- and 2-cyl. engines that can mount a cam-driven sensor (many motorcycles)
Simple installation with few wires to connect. Universally applicable due to highly adjustable advance-curve.
Three rotary knobs set engine configuration and advance curve.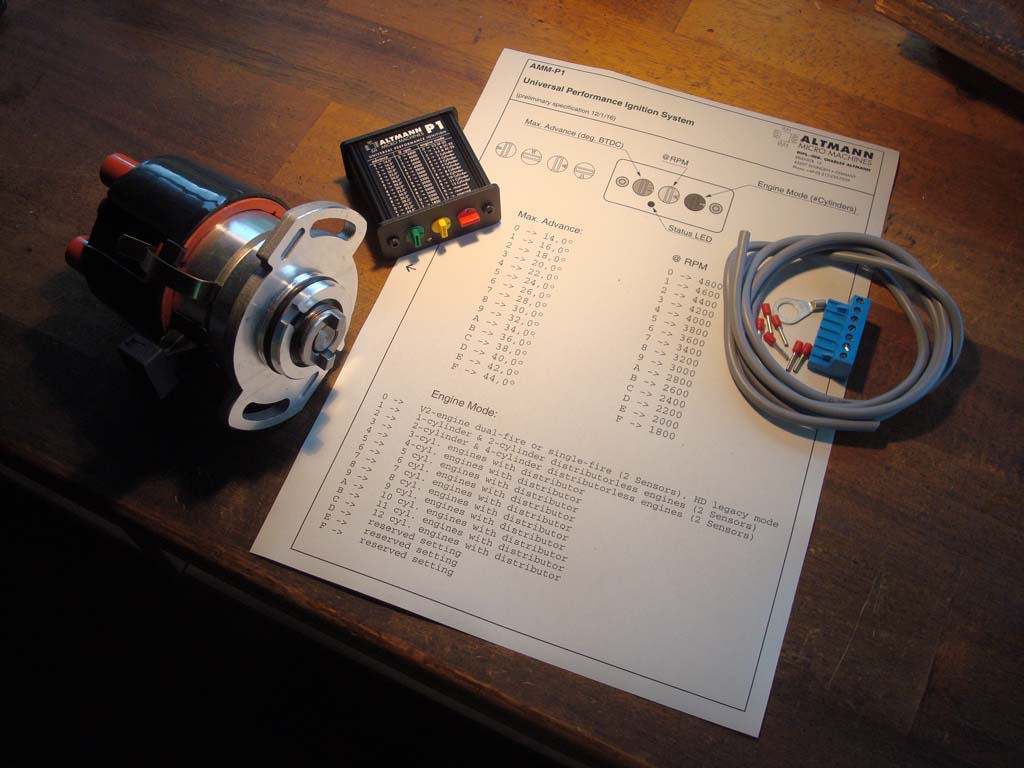 Shown above: AMM-P1 ignition module with VW Volkswagen Hall-Sensor ignition distributor.
Donload the AMM-P1 control-sheet and basic introduction.
Plug and play with many existing ignition distributors that already utilize hall-sensor. AMM-P1 automatically adapts to trigger-rotor geometry and therefore is compatible to many original ignition distributors. For engines that came with points ignition distributor, we supply custom hall-sensors and adapter kits to facilitate electronic conversion.
Simple user interface
Red knob selects engine mode (#cylinders)

Green knob selects maximum advance in 2° steps from 14° BTDC to 44° BTDC.

Yellow knob selects RPM where max. advance is present, in 200 RPM-steps ranging from 1800 RPM to 4800 RPM.
Advance curves are created mathematically inside the AMM-P1's micro-computer in real-time with 32-bit precision.
Thus green and Yellow knobs access 256 ultra-high-resolution advance-curves that enable perfect adjustment to any existing engine!
Advance curves are calculated with 32-bit precision using a 4th order polynomial which has been developed by AMM and is backed with over 20 years experience in high-performance ignition systems.
This spark-control system eliminates all kinds of even so tiny jaggies in the engine-control, leading to superior refinement and performance.
Advance-curves can be adjusted on the fly - engine running.
AMM-P1 module is small and can be mounted to dashboard in order to make instant advance-curve changes during operation (i.e. motorsport applications, adaption to fuel quality, etc.).
Here's how the advance setting works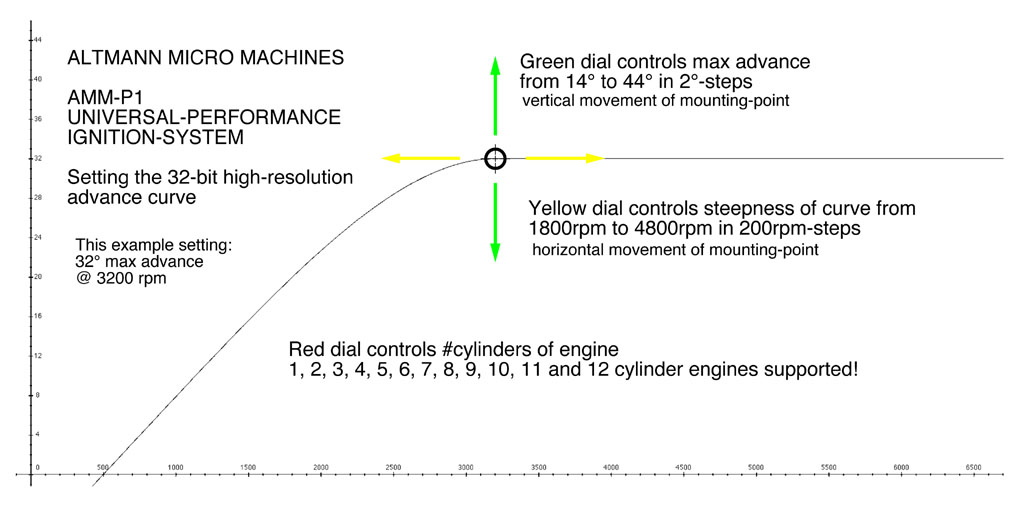 Green dial controls max-advance BTDC in 2° steps -> curve mounting-point is moved up/down using the green knob. The setting range for max advance is 14° up to 44° BTDC in order to accomodate a very wide range of engines.
Static (initial) advance can be added by adjusting the sensor (distributor) setting.
Yellow dial determines at which rpm the max advance plateau is reached.
In other words: yellow dial controls the steepness of the advance curve, more specifically it moves the mounting point between the curved (rising) part of the advance-curve and the flat max-advance level of the curve horizontally. The curve's mounting point can be adjusted in 200-rpm steps ranging from 1800rpm to 4800rpm. A lower setting yields to a more aggressive steep curve since full advance is reached at a lower rpm, while a higher setting gives a slower rising curve (full advance reached at a higher rpm).
This parametric way of setting the advance curve was developed by AMM in the late 1990's and was first employed in the AMM-P3 ignition (for Harley-Davidson Twincam engines).
The parametric advance setting is enormously practical since many workshop manuals state the basic ignition setting in deg before top-dead-center at rpm, i.e. 30°/3000 rpm. So without further ado you can set 30° on the green dial and 3000rpm with the yellow knob and be done with a first setting.
The AMM-P1 ignition calculates a perfect curve in 32-bit resolution from your setting in real-time. Advance settings can even be changed while engine is running, sometimes required in rally or racing conditions. This easy curve-control gives you access to 256 individual advance-curves, without the hassle of sifting through curve-ables or operating a computer.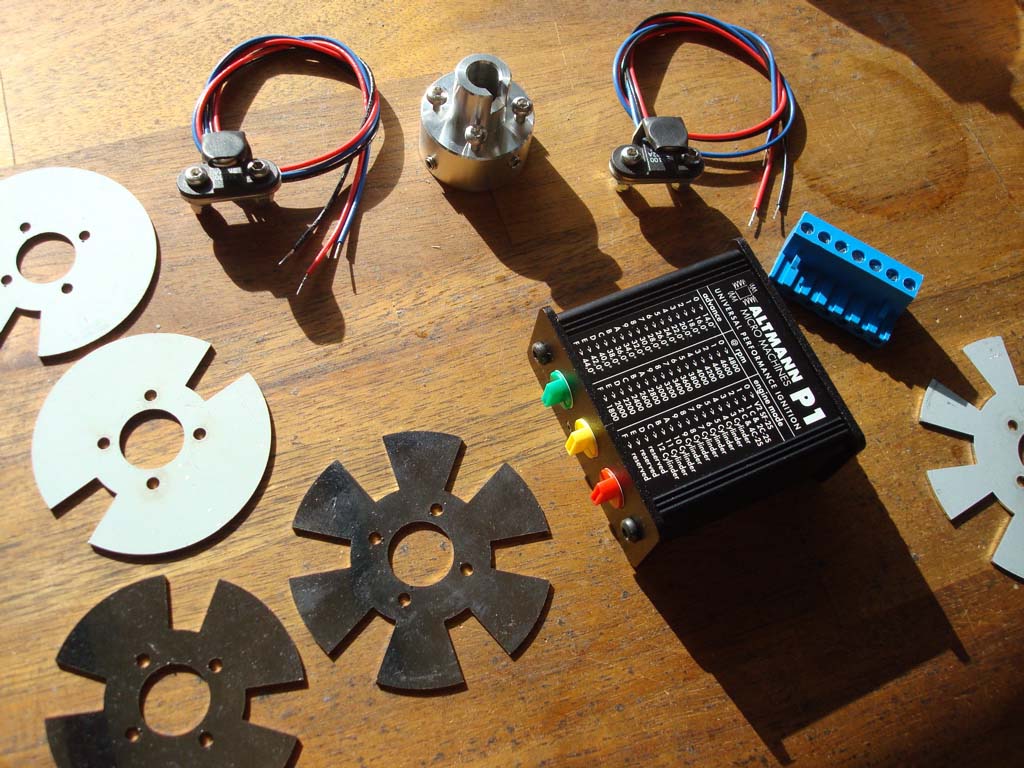 Shown above: AMM-P1 ignition module with detachable connector, custom sensors, distributor adapter and several trigger discs.
Powerful output with redundancy
AMM-P1 employs latest high-performance ignition IGBT as coil-drivers ... and ... two of them.
Inductive system, high primary voltage -> very powerful and long-duration spark. High-quality ignition-cables and -coil strongly recommended!

In engine-modes 3..12 both transistors are controlled simultaneously. Since only one coil-driver is needed for operation, the other can serve as a spare in case of emergeny.

In dual-spark (tandem distributor) applications two coils can be fired simulatneously (as used on some Porsche engines, etc)

In racing applications both coil-drivers can be paralleled to drive even higher powered (lower resistance) ignition coils.

Engine-mode 0..2 contain applications using 2-sensors and driving 2 coils separately as is desired in many V2 applications (single-fire) or 4-cyl. distributorless operation.

Both coil-drivers are protected against short circuit and featuring automatic dwell-control.
Shown below: 1973 Dodge Challenger powered by AMM-P1 ignition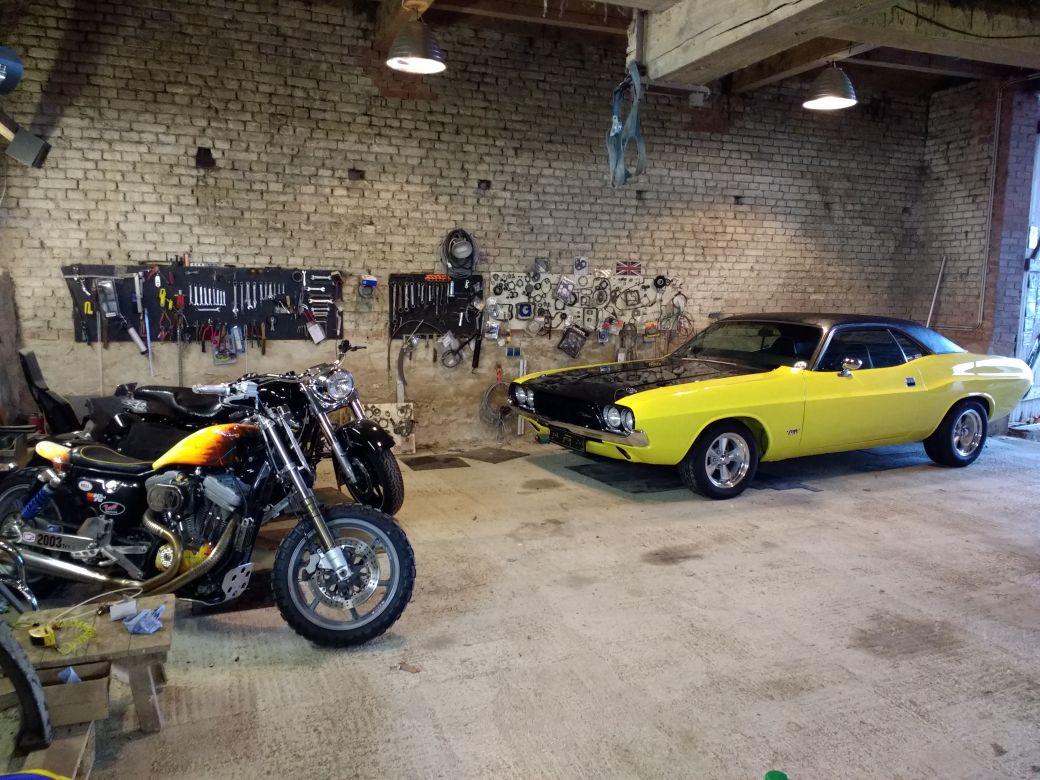 Shown below: Dodge ignition distributor converted to AMM-P1. AMM Sensor and Trigger rotor mounted below plate for original appearance.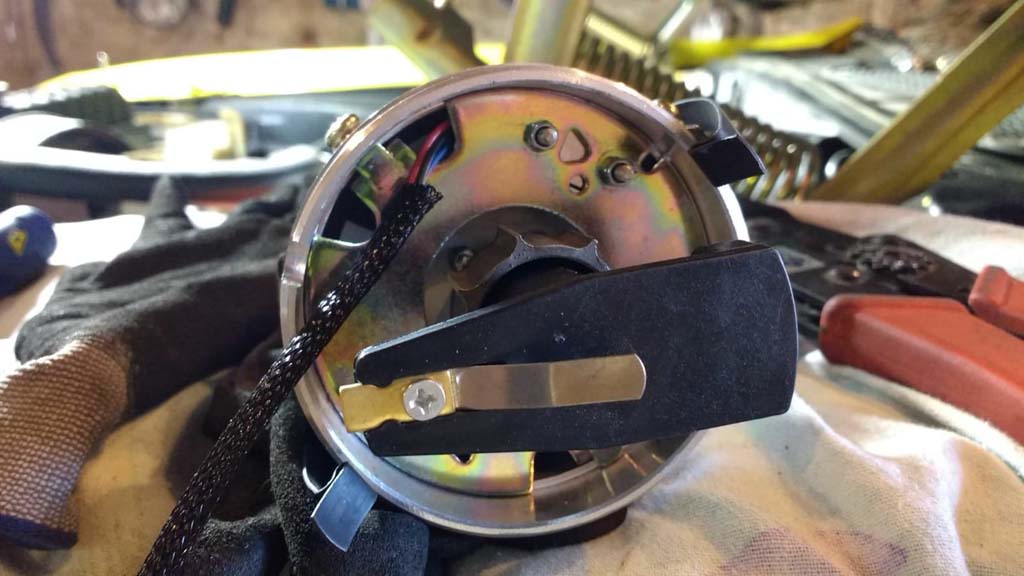 Shown below: AMM-P1 mounted in the Challenger's ashtray for easy access: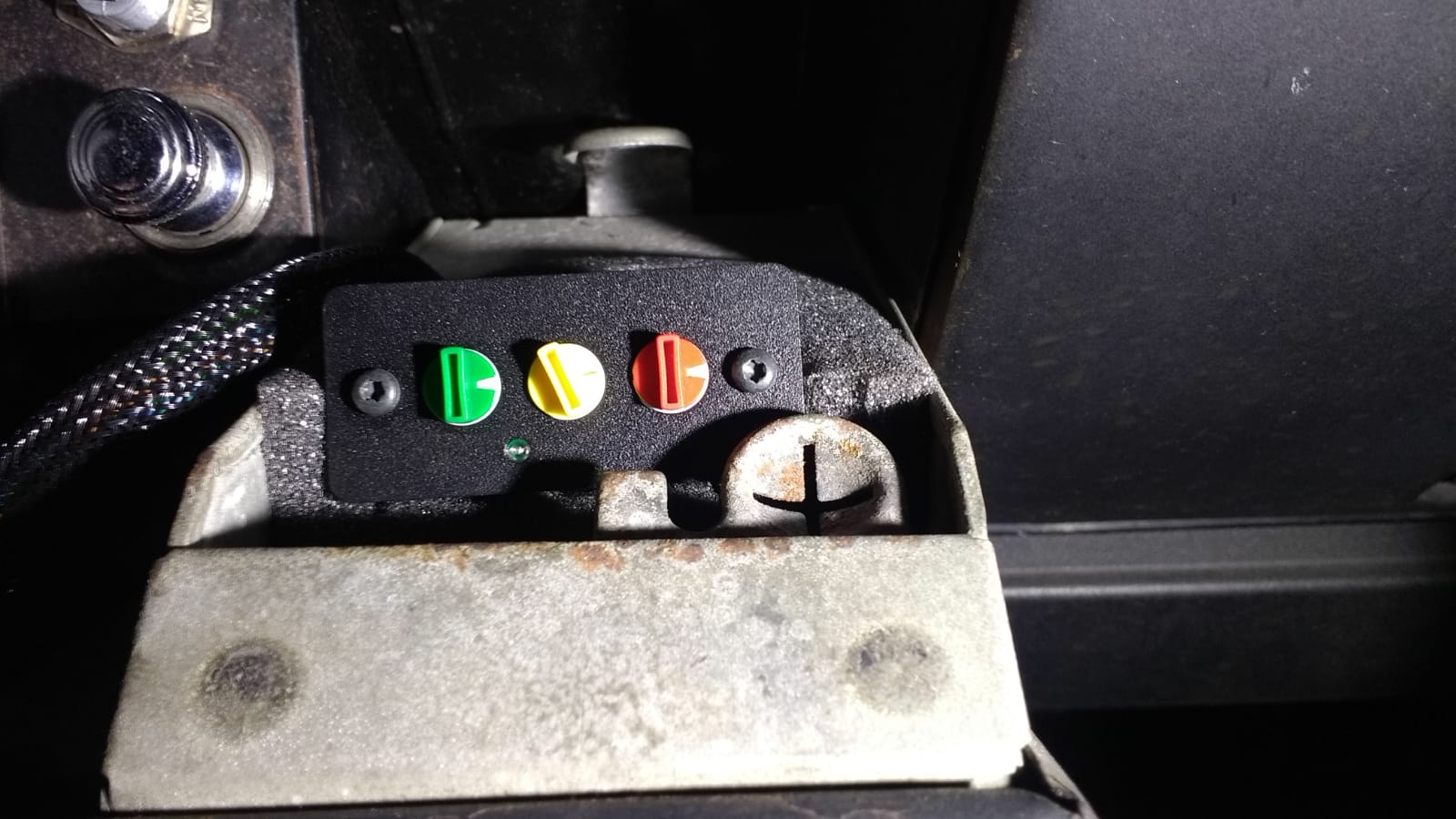 Shown below: Same ignition system (AMM-P1) on the Sin-Central Chopper with Royal-Enfield Unit-Engine replacing the EFI with carburetor:
Shown below: 1977 Opel C Kadett mit Altmann AMM-P1 Zündung, Top-speed: 260km/h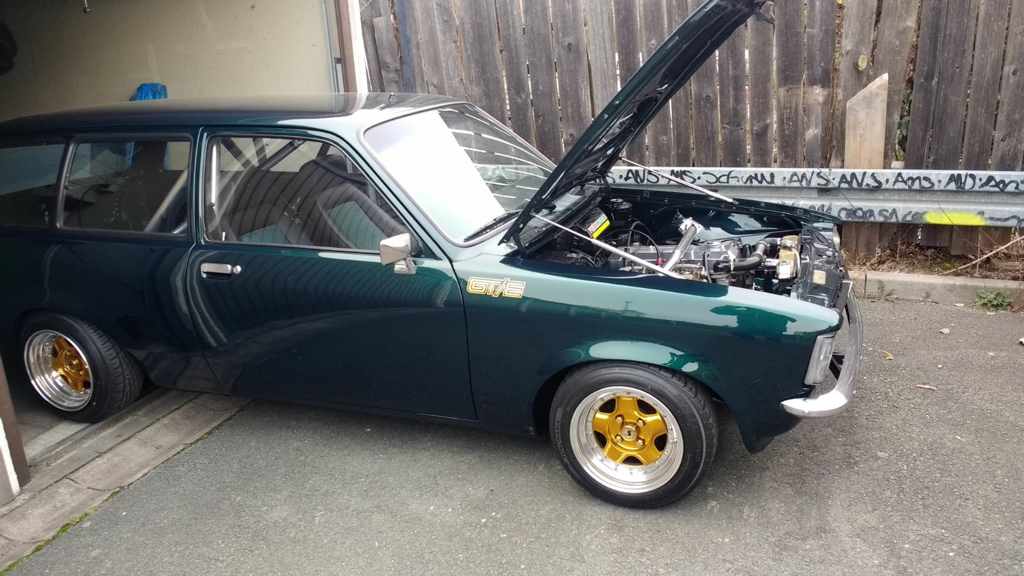 Shown below: AMM-P1 in 1969 Cadillac DeVille engine bay (mounted on left wheel arch). Very few individuals know how refined this engine can run!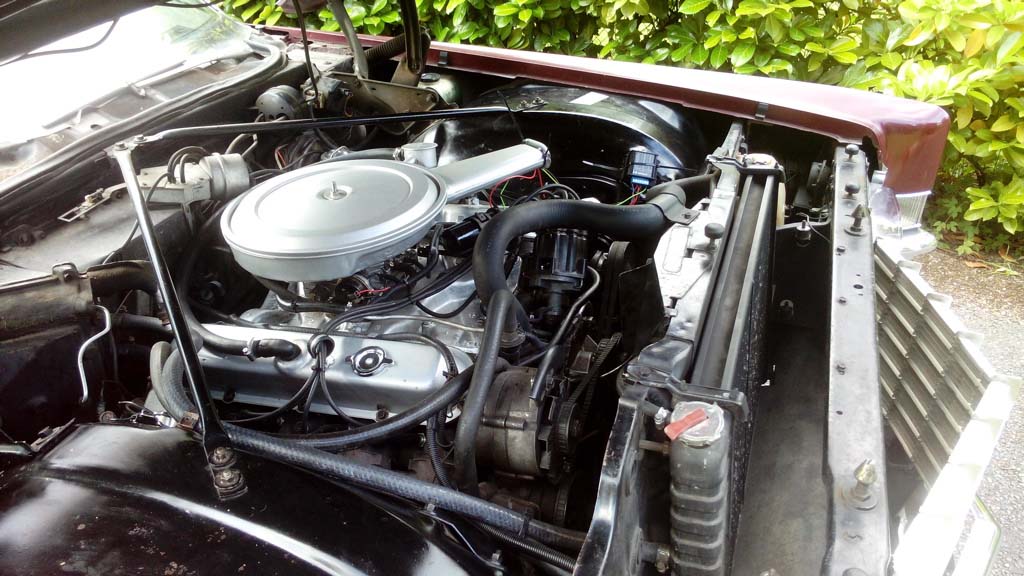 AMM-P1 engine-mode #8. Outward appearance of distributor unchanged.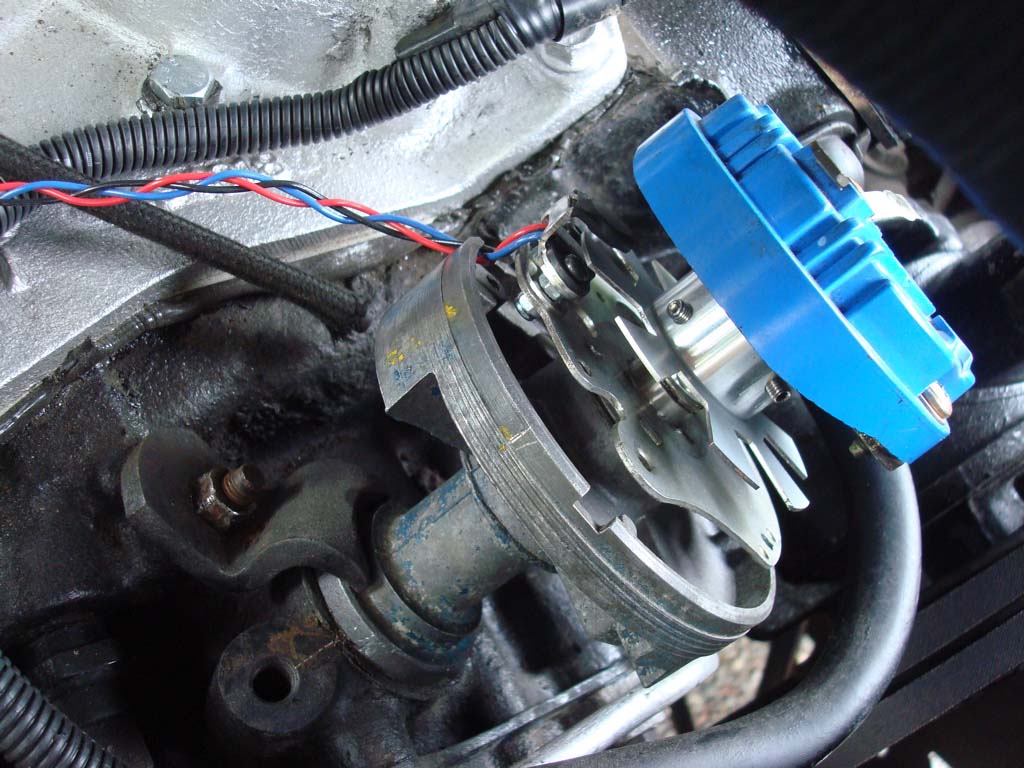 Shown above: inside converted Cadillac 472 distributor. Mechanical advance locked, AMM custom-sensor, V8 trigger-disc and adaptor.
What happens if a new motorcycle engine-design runs on carb and AMM-P1 ignition for the first time ?
Behold the Indian Thunderstroke 111: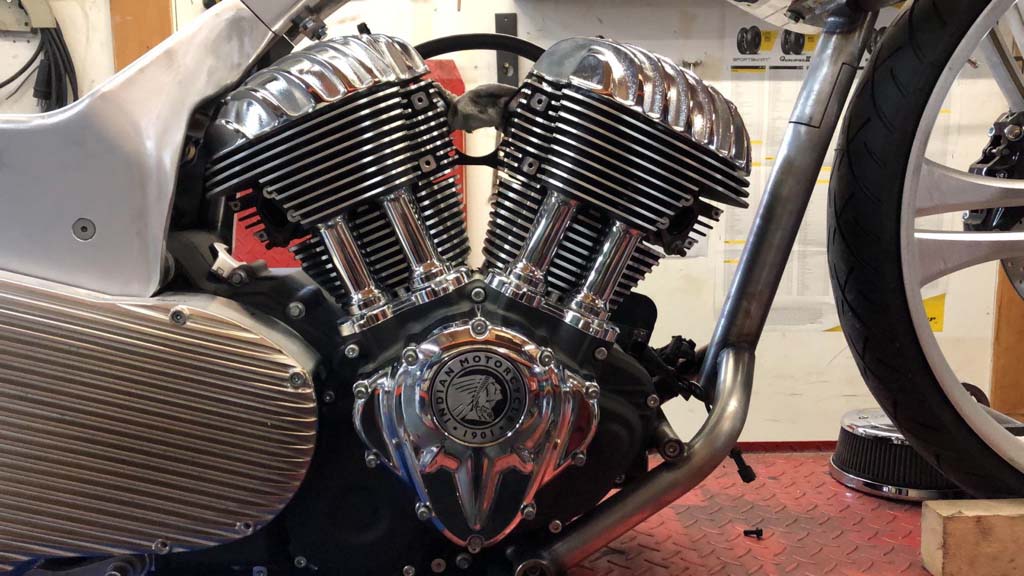 Sensor installation. We have designed a special trigger rotor for this 49deg V2 engine: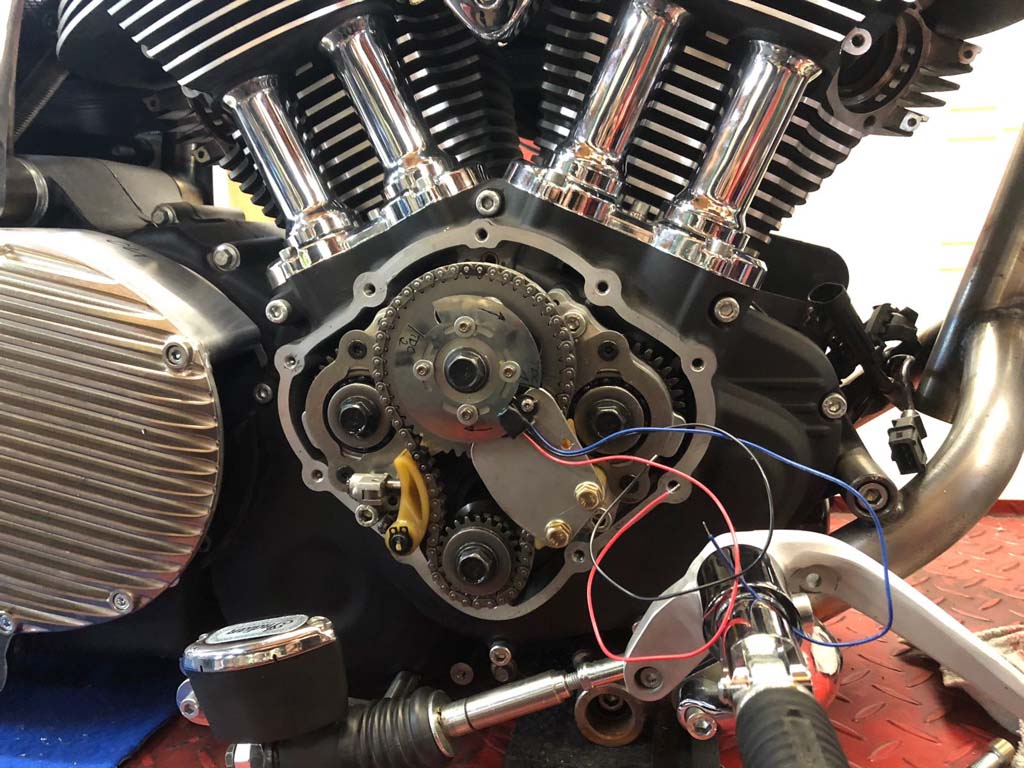 Sensor cable is routed out of cam-cover through this neat coupling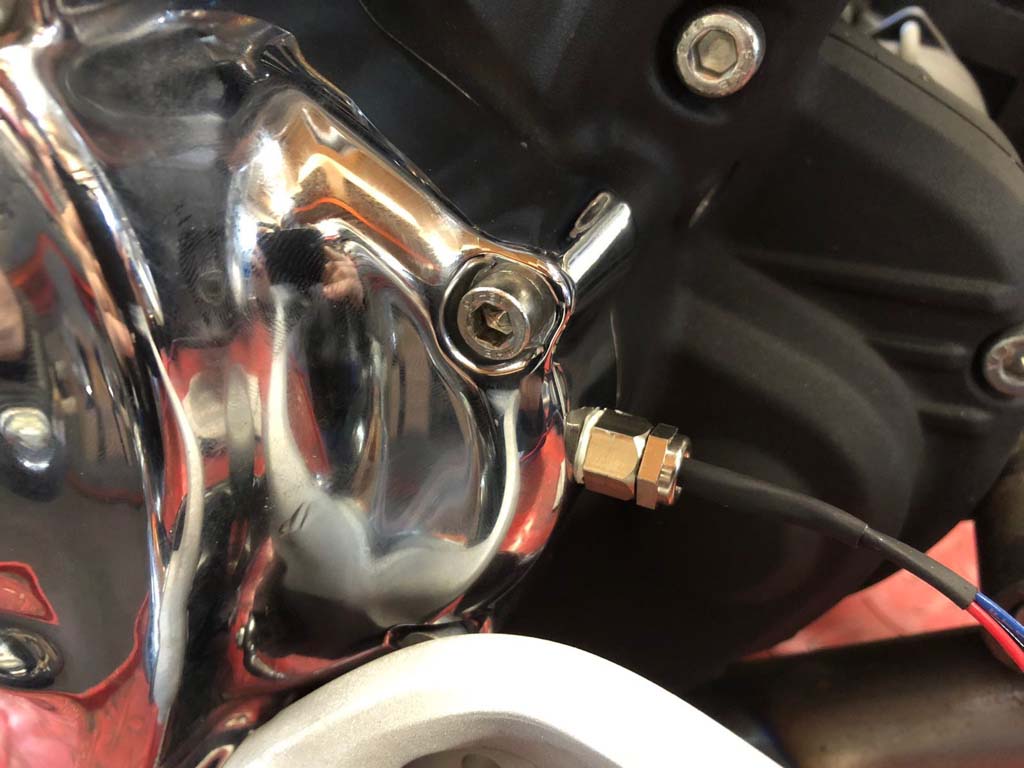 Video of the Thunderstroke 111 custom bike built by Markus Krasser, SMC-Styrian Motorcycles. Engine running on AMM-P2 in dual-fire mode with HD Evo-coil and Mikuni HSR42 carburetor:
Note: The AMM-P2 is a sub-version of the AMM-P1 ignition. Instead of operating 1 through 12 cyl. engines, the AMM-P2 is designed for all V2 engines "only". The red knob is used as a rev-limiter from 5000 .. 8000 rpm in 200 rpm steps. Take a look at the AMM-P2 manual.
See below, Roland Sands 'El Camino' custom-bike with Indian Thunderstroke engine, powered by the AMM-P2 ignition system which is mounted on top of coil between the cylinders:
Shown below: Joni's BMW K100 upgraded to carburetor using the AMM-P1 ignition.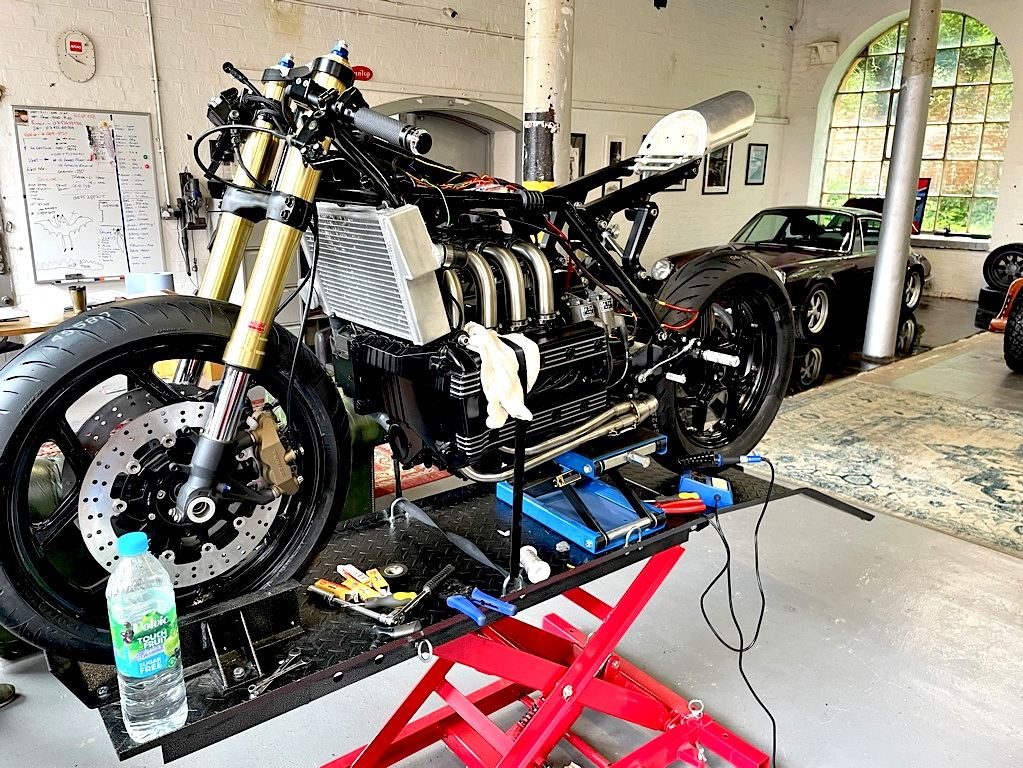 The K100's stock ignition coils and sensor can be used, only the AMM-P1 module is needed. This makes the conversion easy and efficient. AMM-P1 engine-mode #2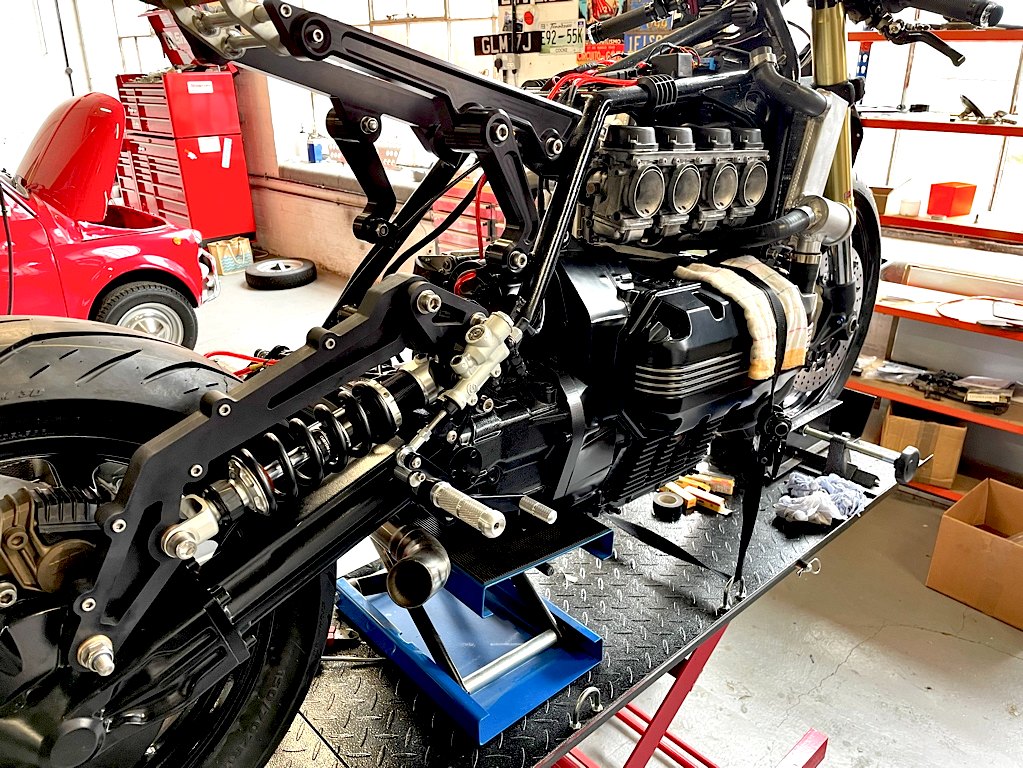 Shown below: AMM-P1 finished installation Ford Mustang 289 cui engine: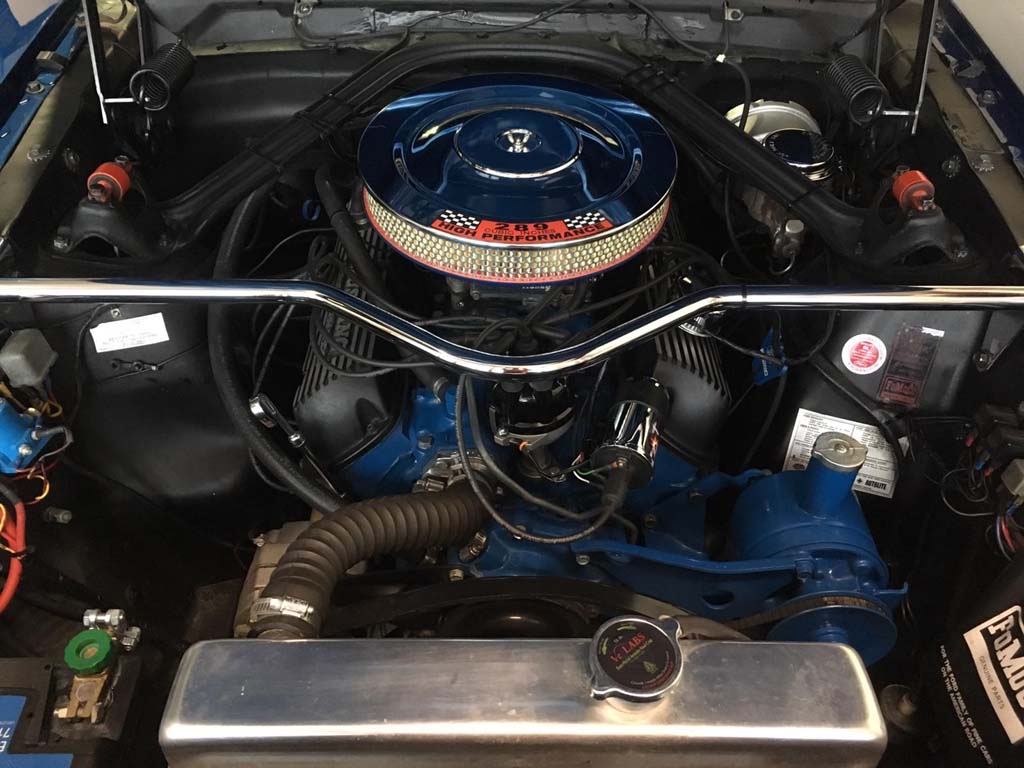 Ford Mustang ignition distributor converted with AMM-P1 precision sensor: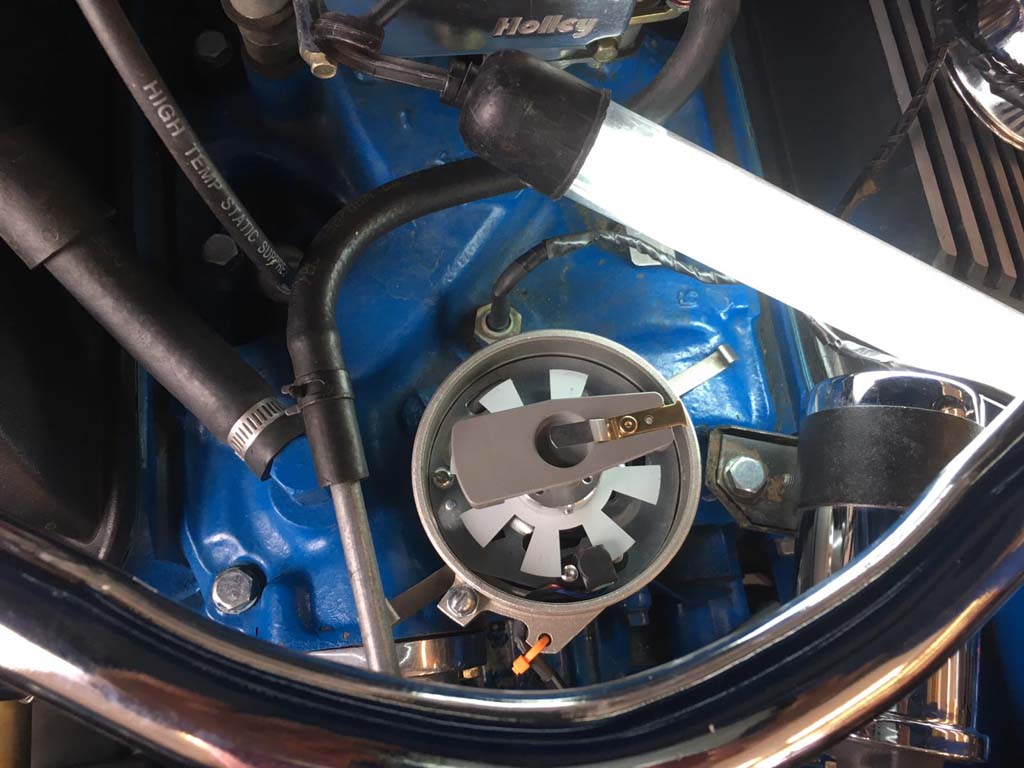 AMM-P1 module installed inside the Mustang ashtray for easy configuration of engine performance. Conversion done by Jetzer American Dream V8 of Switzerland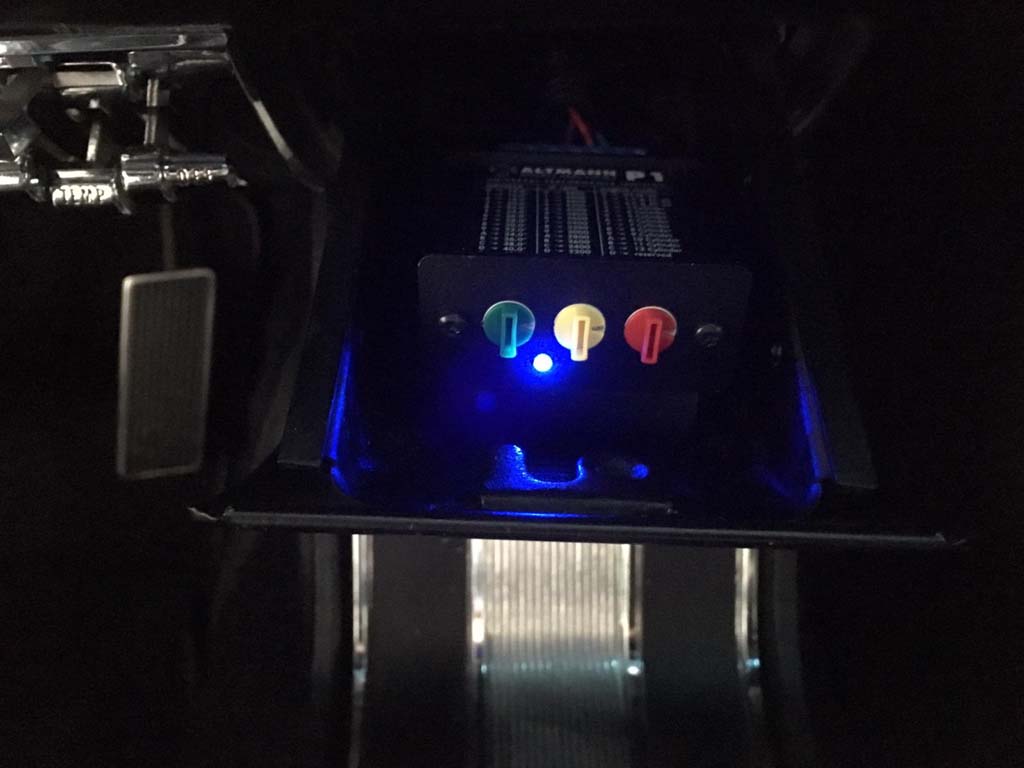 Low Voltage Operation
While the AMM-P1 is overvoltage and reverse-polarity protected, one very desirable feature is its ability to maintain full operation down to 2,5 Volts!
This means it is eminently suited for 6Volt systems, be it car or motorcycle.
It also means that on many motorcycles the engine can be kickstarted even with empty battery or entirely without any battery (tested with Royal-Enfield Bullet 500 and 1982 Harley-Davidson 1340 Shovelhead)!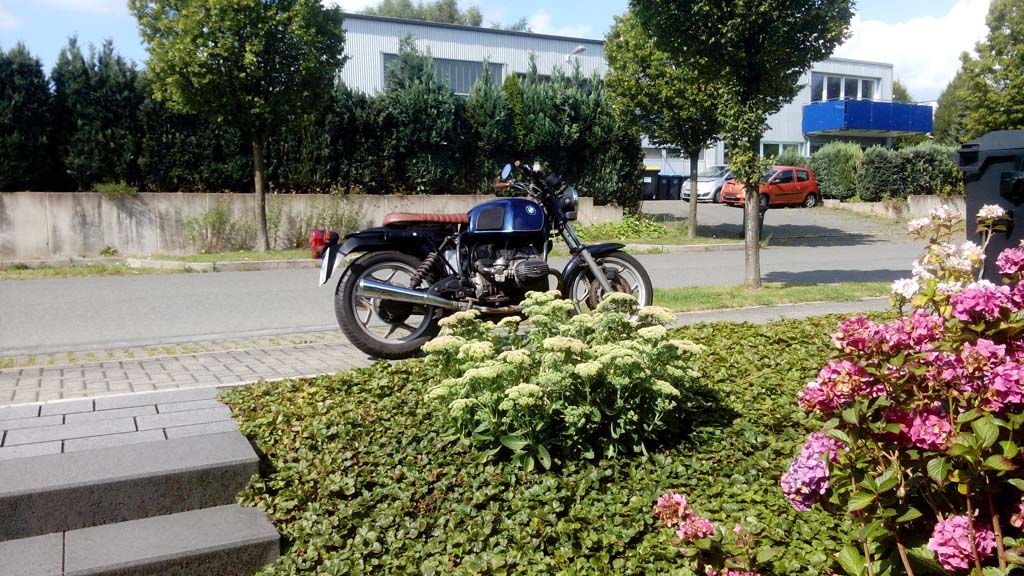 Shown above: 1990 BMW R80, AMM-P1 engine-mode #2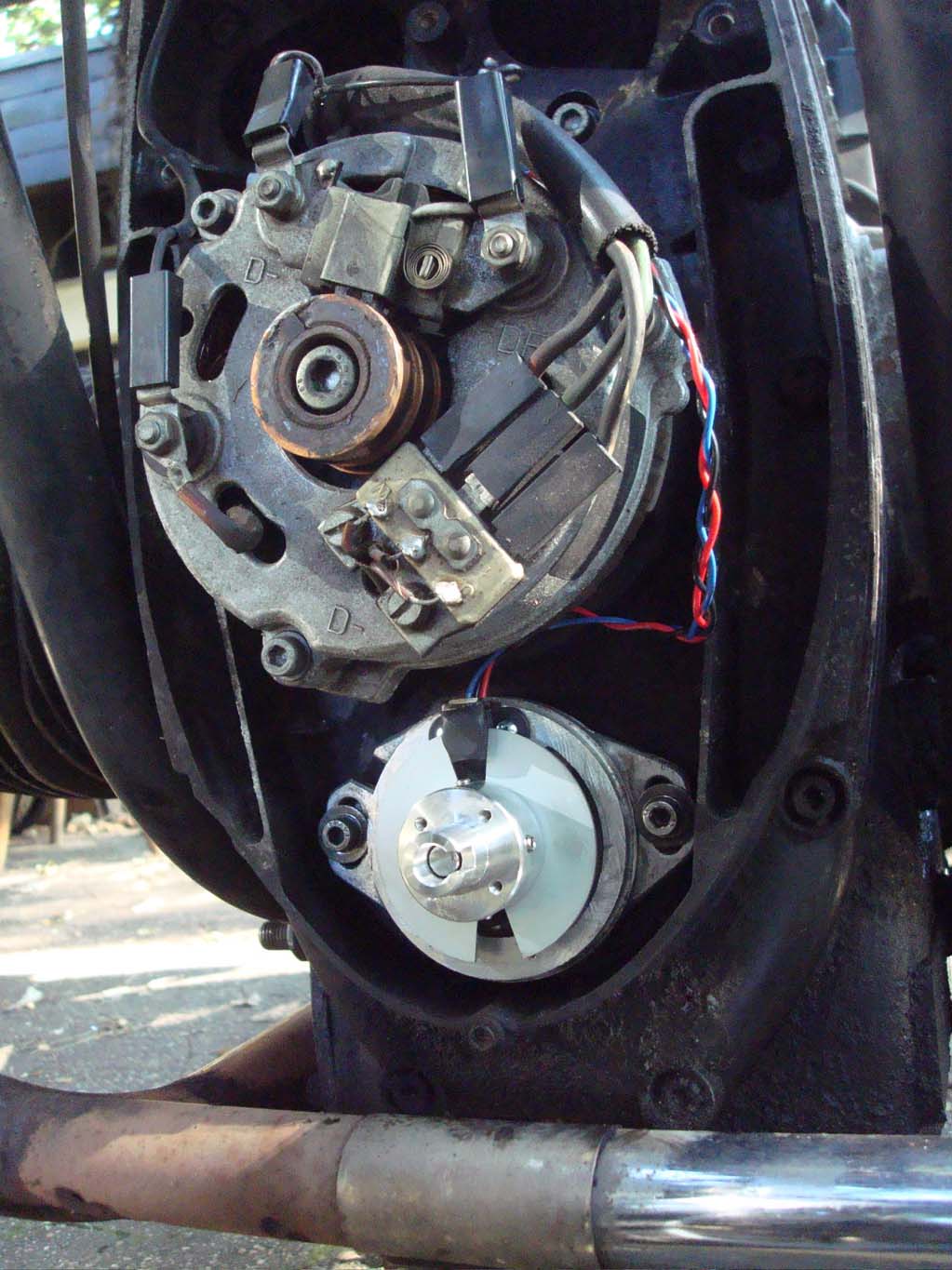 Above: BMW R80 installation using AMM-sensor, -adaptor and trigger-rotor on modified Bosch ignition casing. Mechanical advance removed.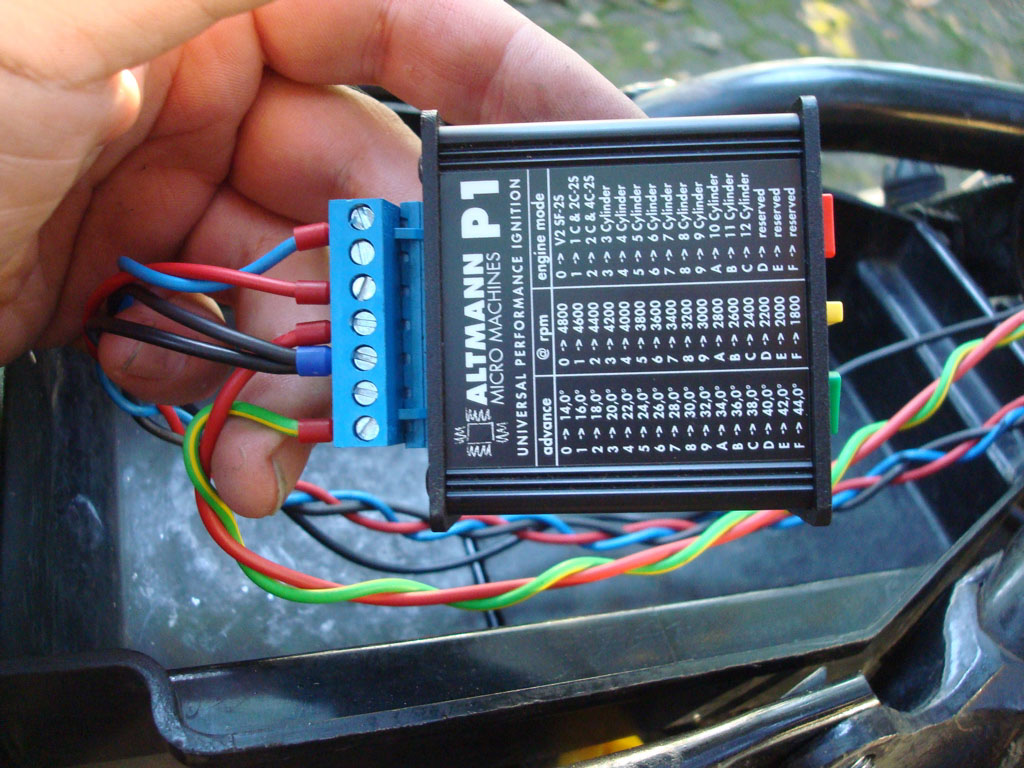 Above: BMW R80 wiring in dual-fire mode (1 Sensor, 1 coil firing both cylinders). Using stock BMW ignition-coil.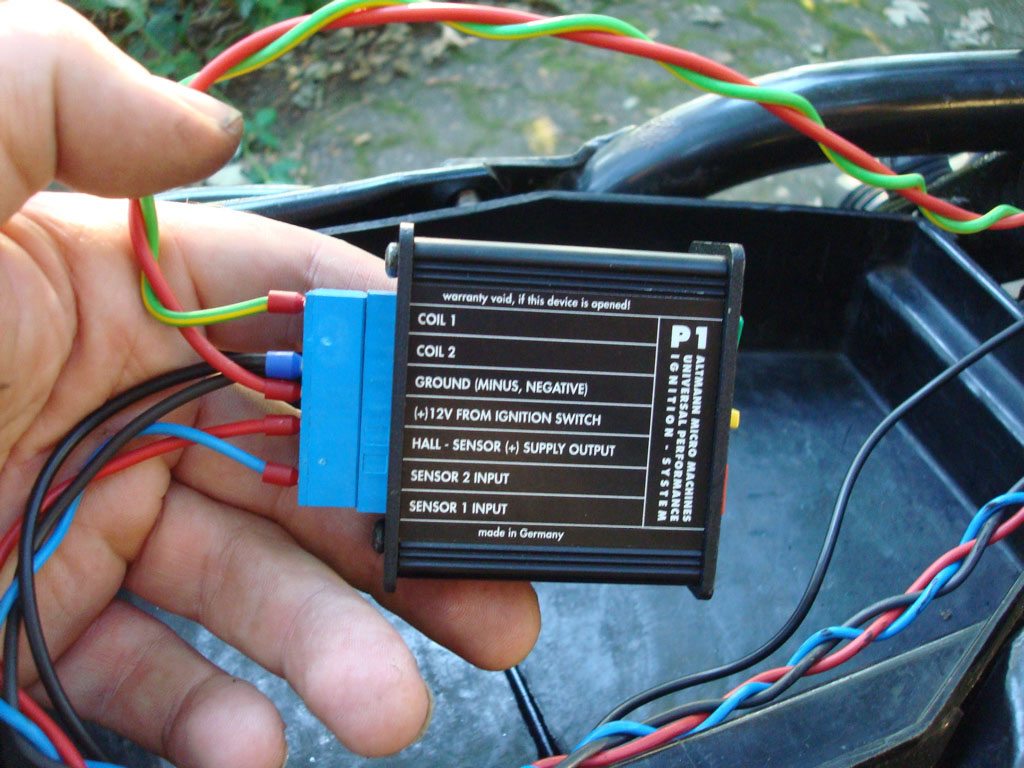 Above: BMW R80 installation showing AMM-P1's rear side and connection. Made by ALTMANN MICRO MACHINES in Germany.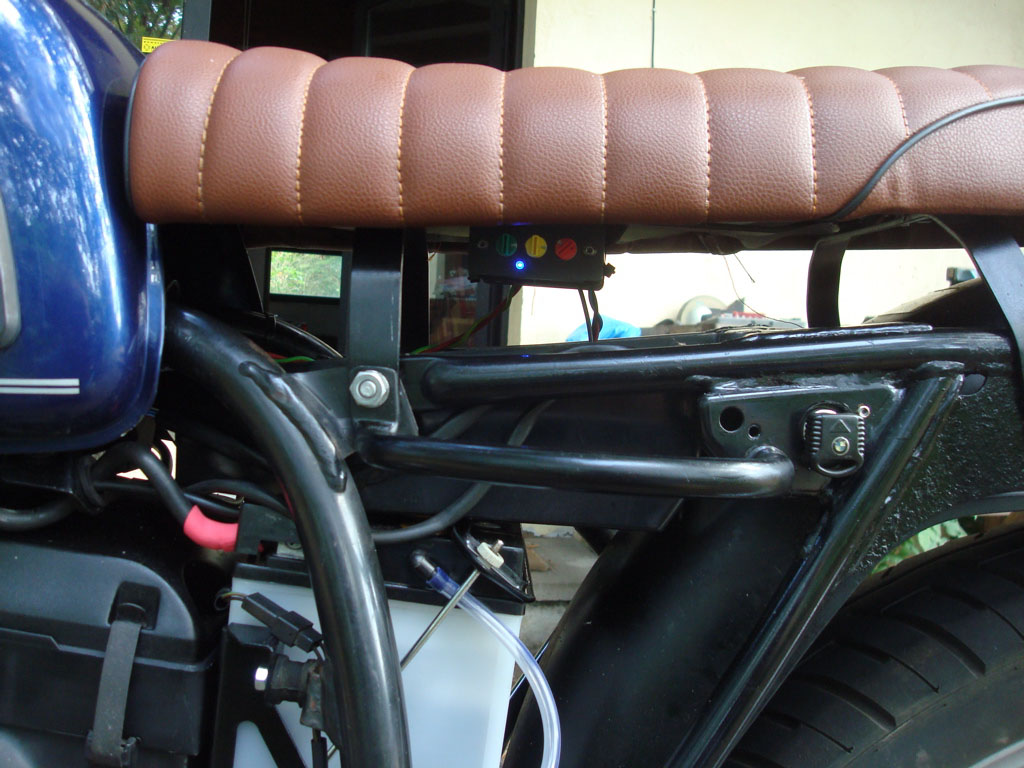 Above: BMW R80 final installation of AMM-P1 module under the customized seat.
Below: BMW R NineT racing motorcycle (Speedshop UK) powered by AMM-P1:
Below: First start of BMW R1200R engine with AMM-P1 and Mikuni VM carburetors:
Shown below: AMM-P1 ad-hoc installation in 1984 Volkswagen VW Golf II 1300cc 4 cylinder engine (AMM-P1 engine-mode #4)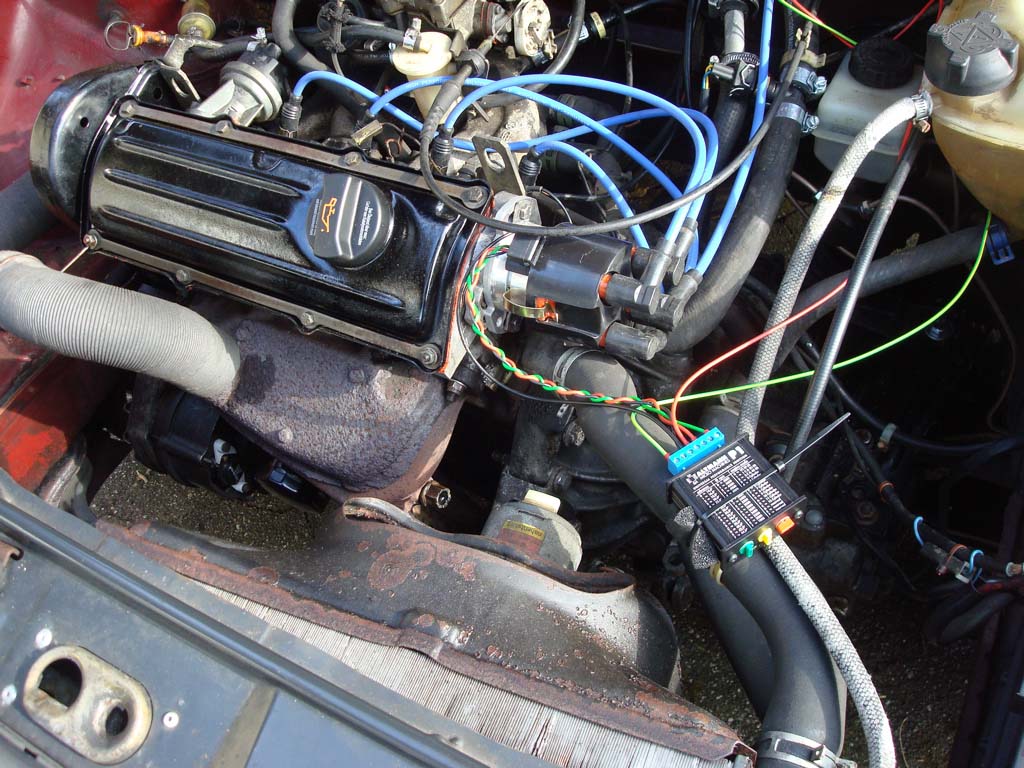 This VW 1300cc engine is also equipped with the AMM-L1 precision lambda regulator for low emissions.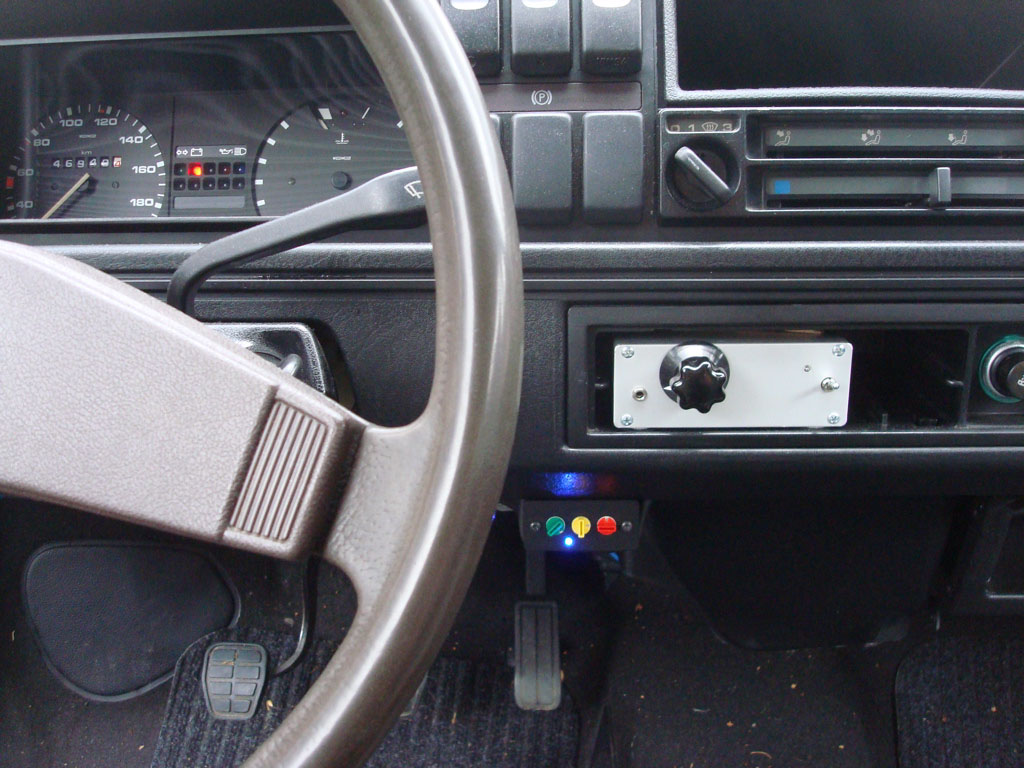 Above: AMM-P1 dash installation in 1984 VW Volkswagen Golf II for easy access and on-road adjustments (silver box is audio amplifier).
Special V2-engine mode
AMM-P1 engine-mode #0 is specially designed for V2 engines. All V-angles are upported i.e. 42° for Indian Powerplus, Chief, Scout, 45° for Harley-Davidson Twin, 47.5° for Vincent, 56.25° S&S X-Wedge, 60° for Harley-Davidson VROD, 90° for Moto-Guzzi, Ducati to name just a few examples ...
The engine's V-angle is recognized by the AMM-P1 ignition by analyzing the trigger signal. That means that each V2 angle needs its own trigger disc (or rotor, cup).
AMM-P1 engine-mode #0 can be used in dual-fire mode (1 sensor, 1 dual-fire ignition coil) or single-fire mode (2 sensor, 2 ign. coils fired separately)
Below AMM adjustable trigger-disc for 42° Indian Chief engine made from ferritic stainless-steel and AMM custom-sensor, stainless-steel: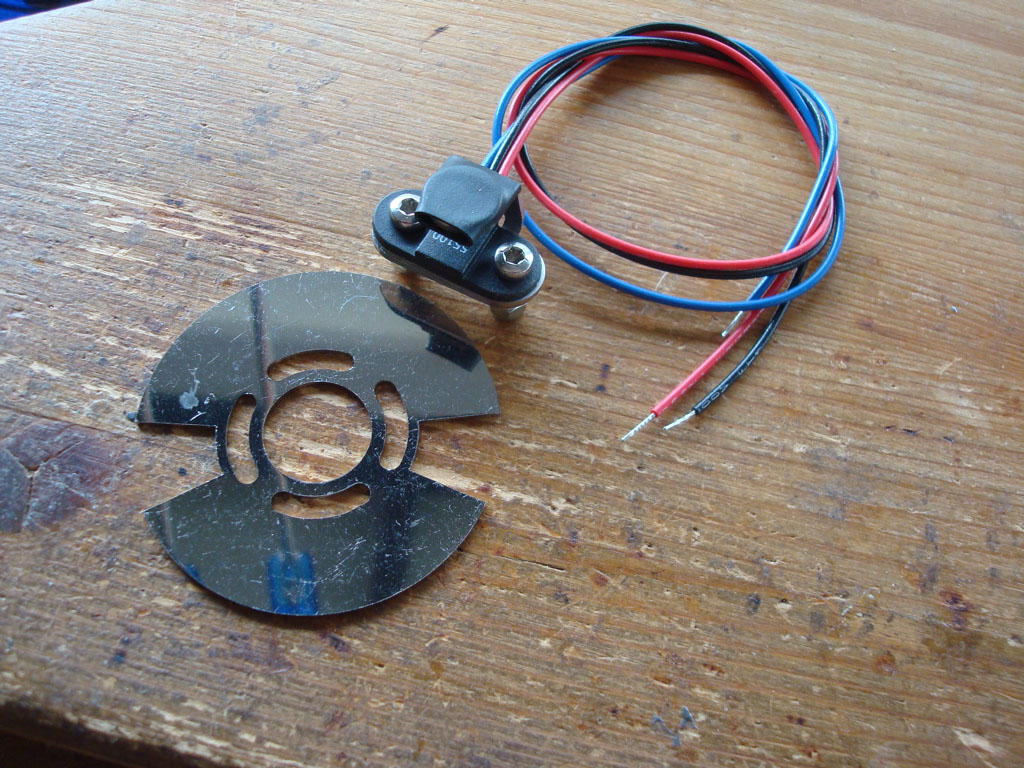 Below, trigger disc and sensor installed in 1945 Indian-Chief distributor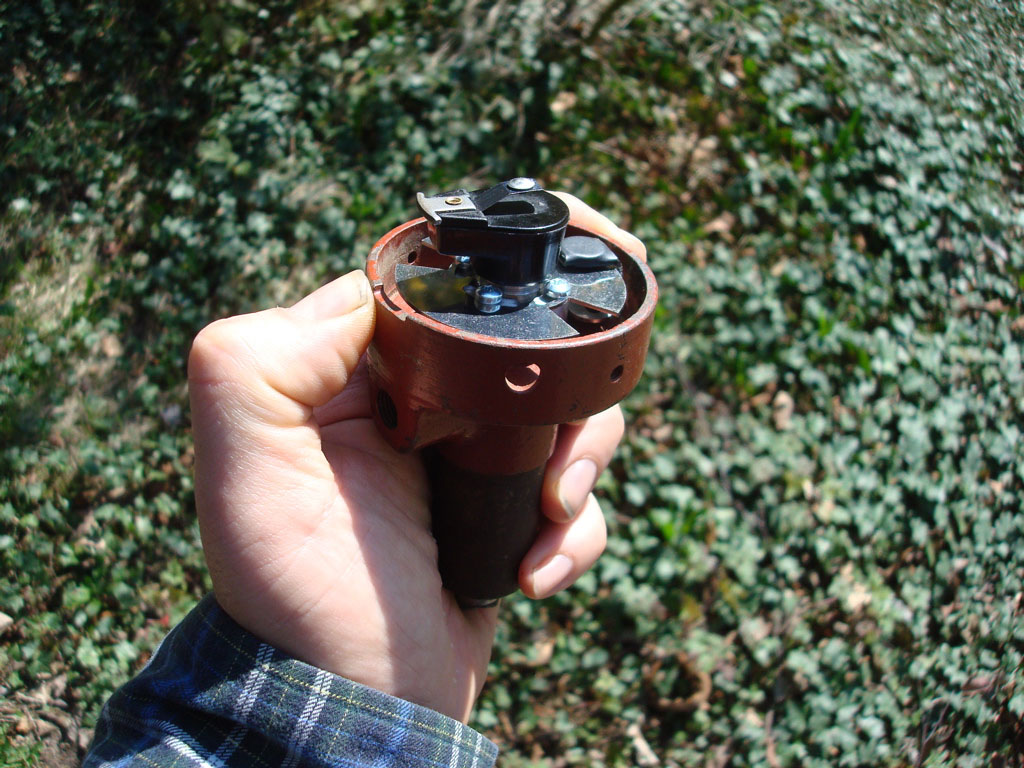 Shown below 1945 Indian Chief, AMM-P1 ignition mounted under seat (AMM-P1 engine-mode #0):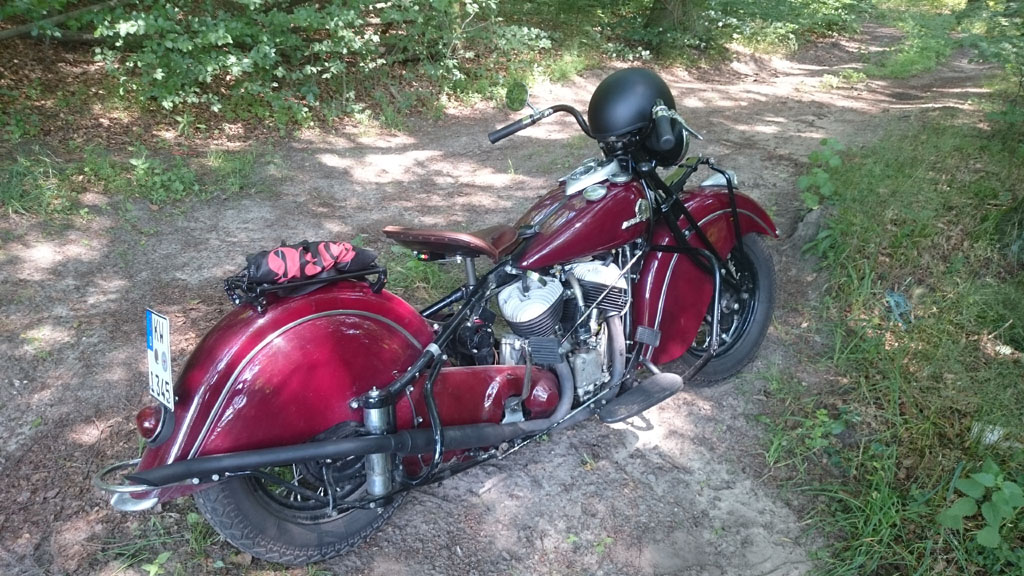 Shown below AMM-Sensor-Plate (single-fire) for Harley-Davidson Shovelhead, Evolution as well as pre 2004 Sportster engines.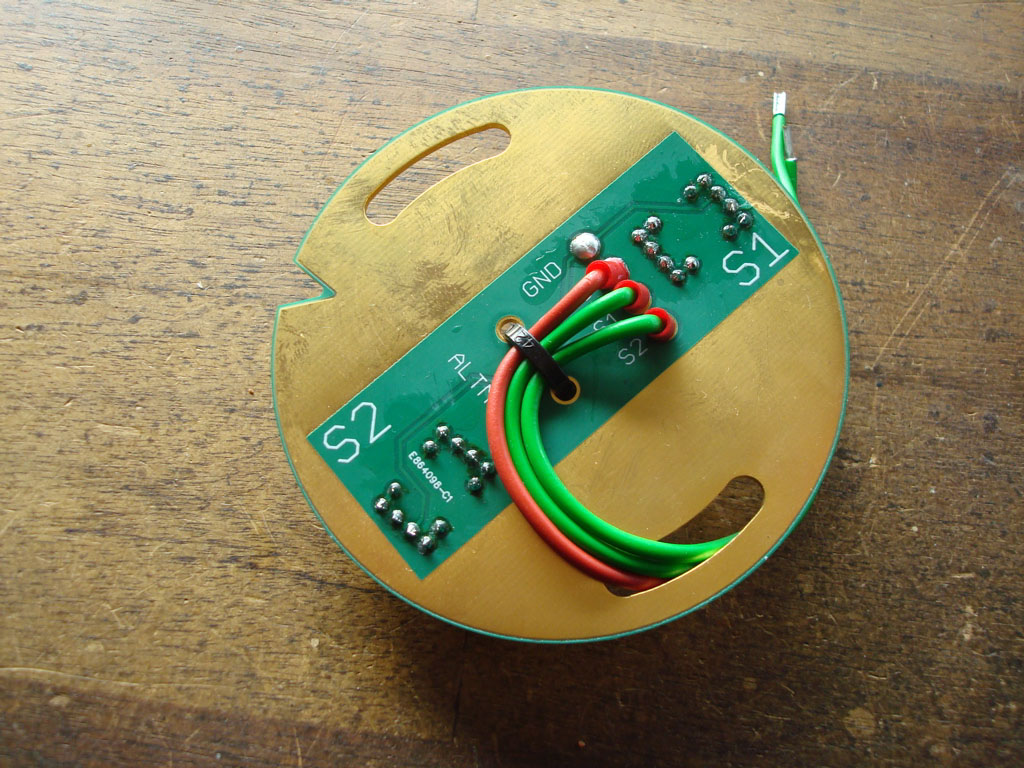 This sensor-plate is to be used with stock HD trigger rotor (OEM 32402-83) as also used by the AMM-IMMOGNITION system.
Shown below: AMM-P1 powers Harley-Davidson Twincam engine with kickstarter !
Time to throw in some ecstacy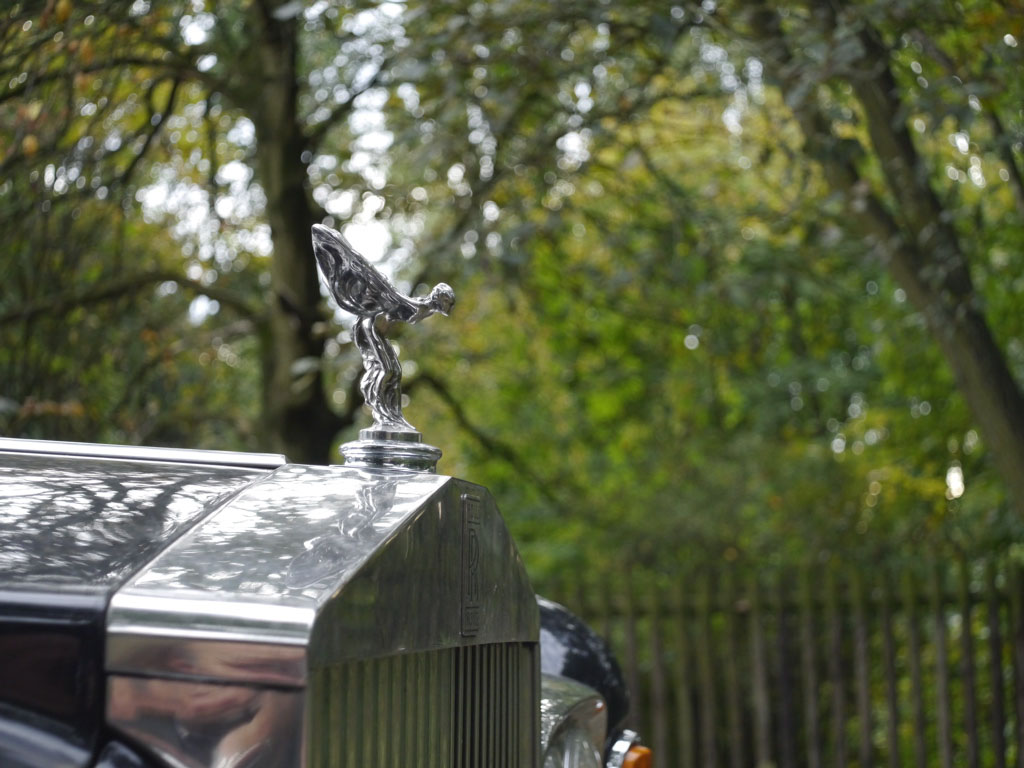 Shown below: AMM-P1 firing 1966 Rolls-Royce Silver-Shadow famous L410 V8 6230cc engine (engine-mode #8). AMM-P1 module fitted to dash after initial install. Lucas gold ignition coil, no pre-resistor needed. This extremely smooth running engine wants to see quite a bit of ignition advance.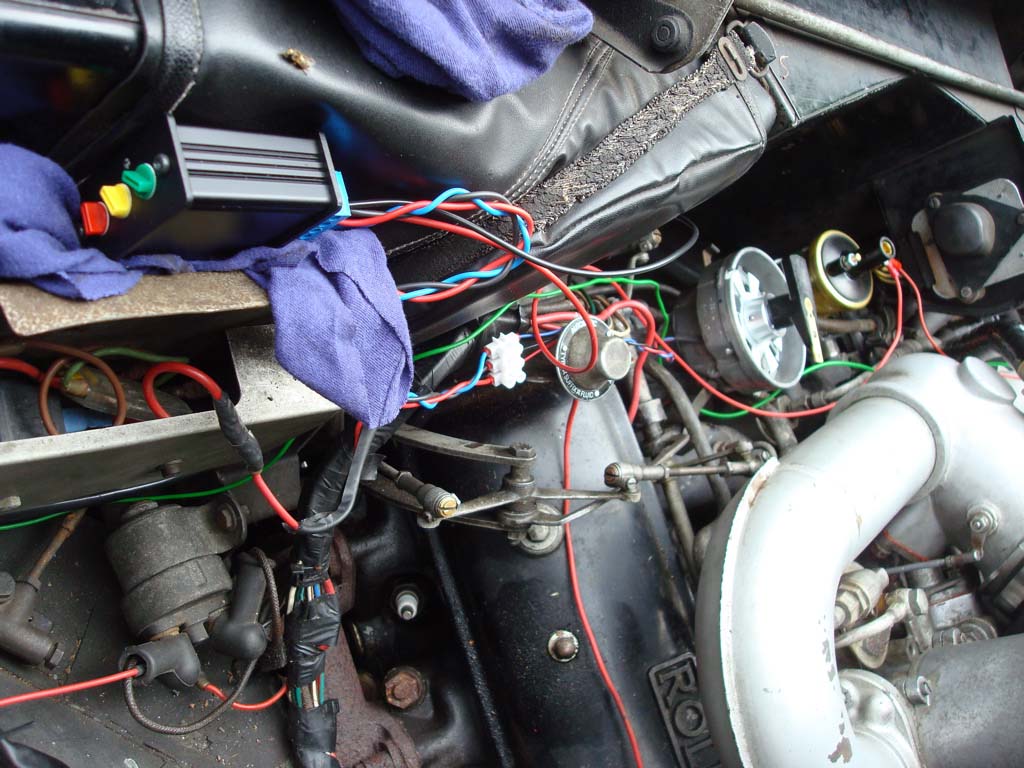 Below: Lucas 35D distributor, mechanical advance removed, AMM-adapter, V8 trigger-rotor and custom-sensor installed. Original distributor finger fitted.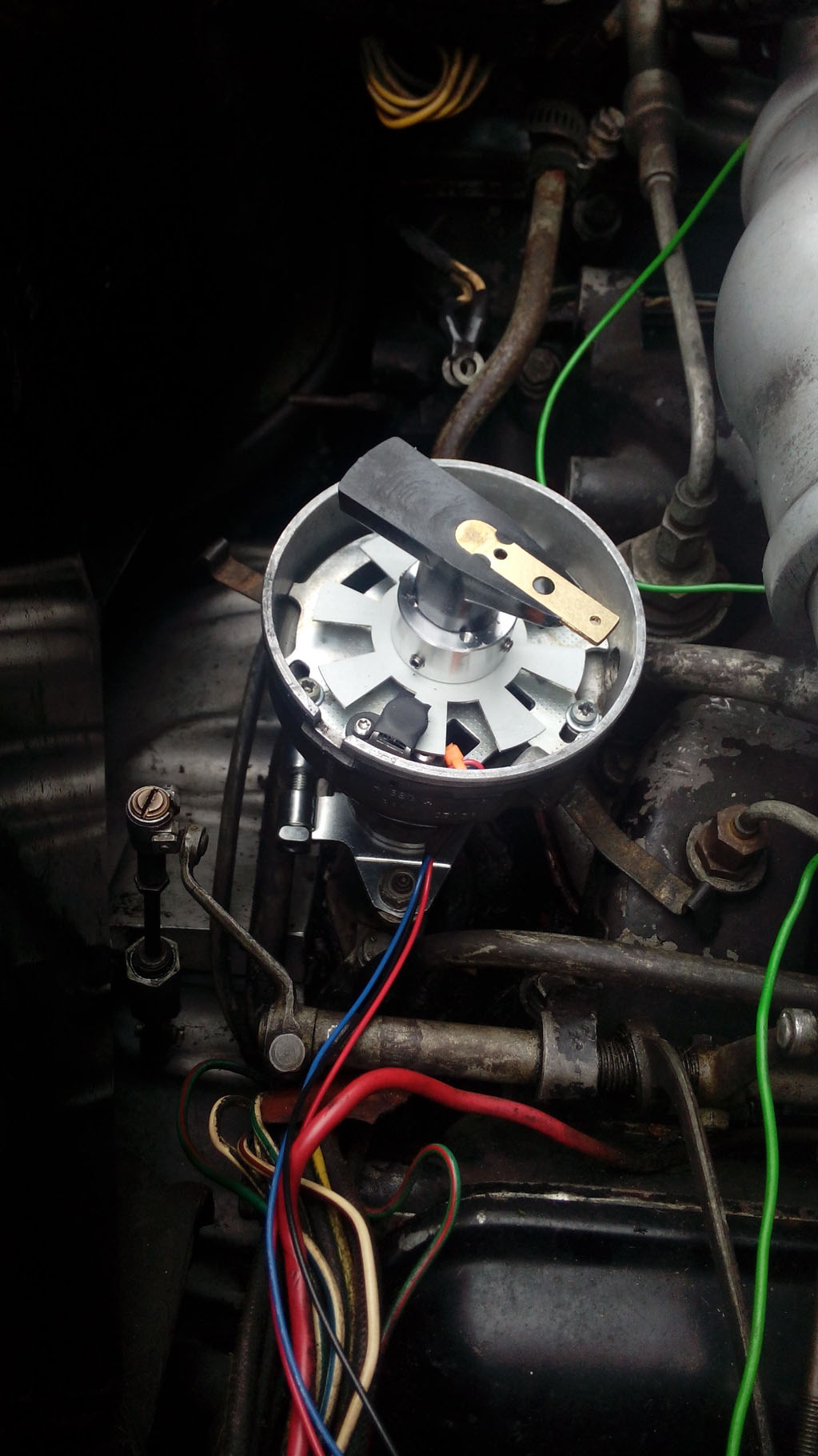 Sensor kit for the Lucas 35D distributor, including adjustable stainless-steel sensor-plate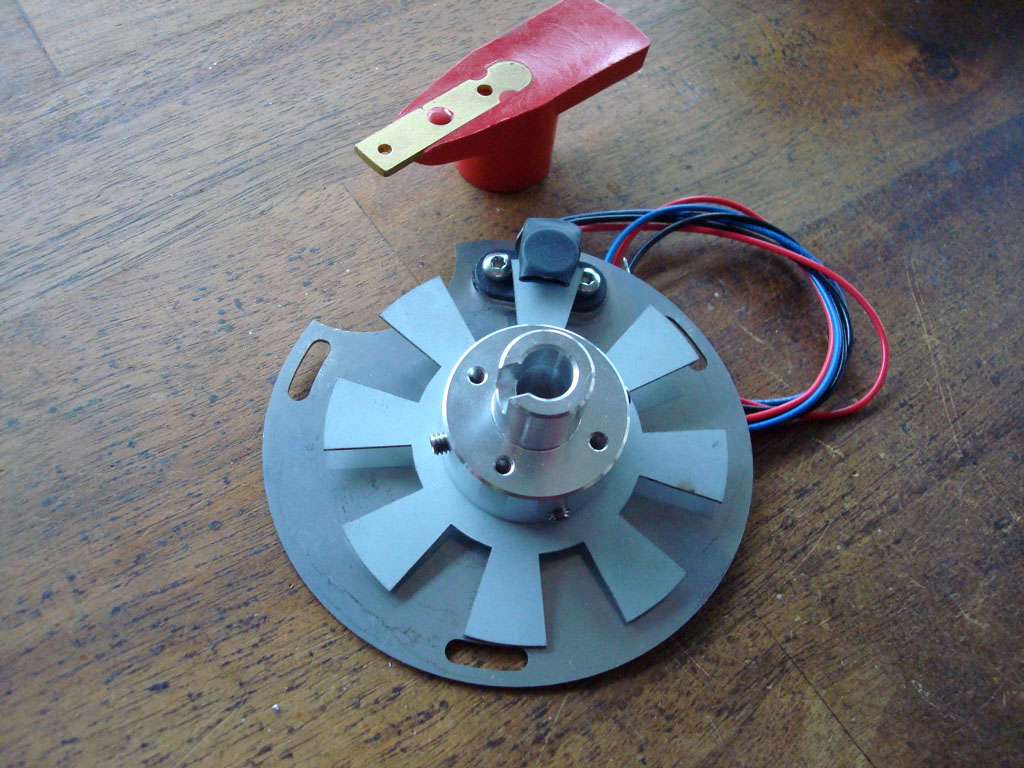 Below Royal-Enfield Bullet 500, AMM-P1 in side-case.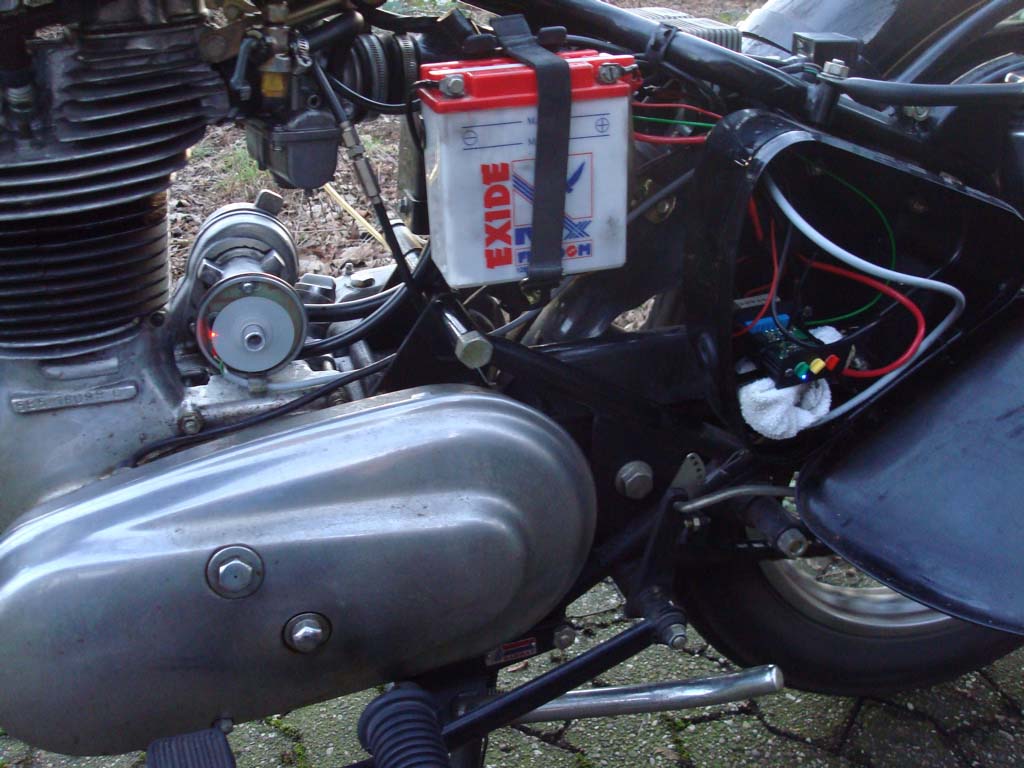 Below: Chang-Jiang CJ750 flat-head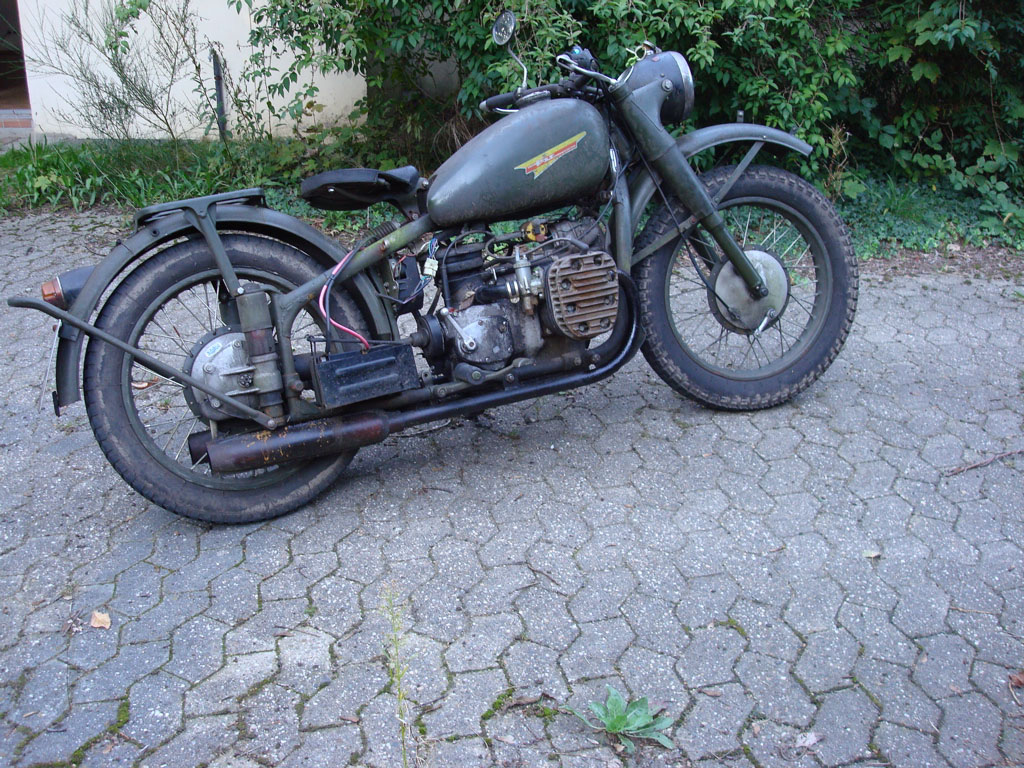 AMM-P1 module under tank, Accel-coil, AMM-adapter, 2-cyl trigger-rotor and custom-sensor.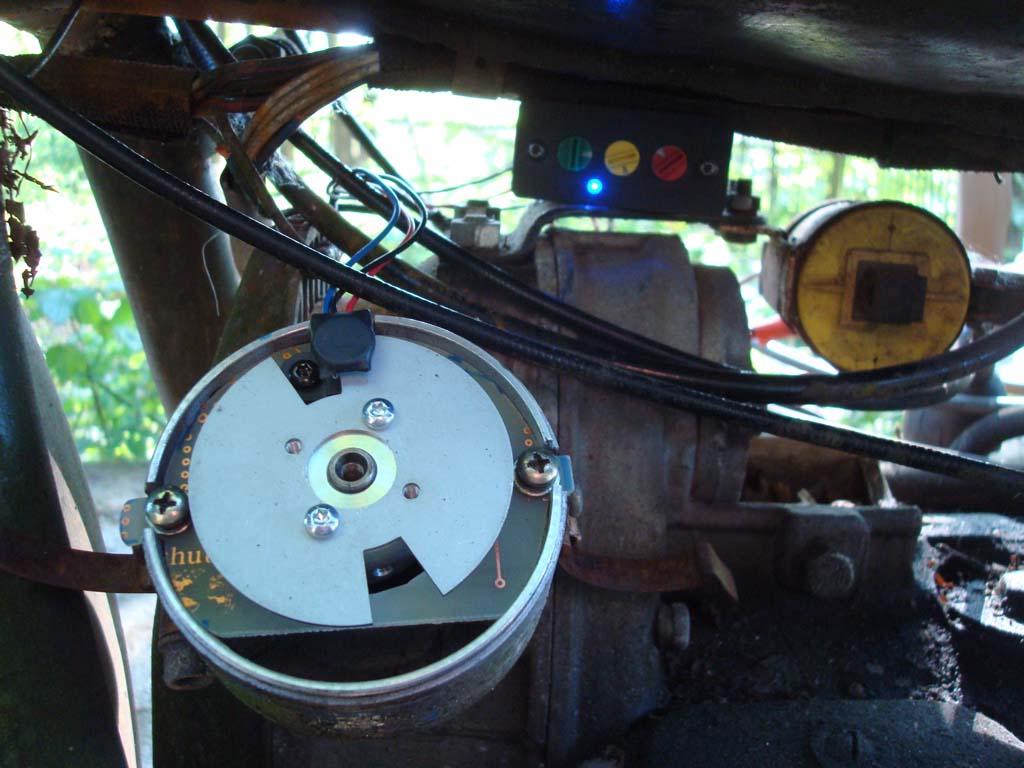 Explanation of AMM-P1 Engine-modes (red dial)
AMM-P1 engine-mode #0 Legacy V2 engine mode.
V2 engines of all angles dual-fire and single-fire mode.
Dual-fire mode (both cylinders fire simultaneously through a dual-fire coil) using one sensor S1 and output on Coil-2. Engine geometry taken from trigger-signal.
Single-fire mode (cylinders fired separately through separate coils) using two sensors S1 and S2 and two coil outputs.
S1 controls timing while S2 controls which cylinder is fired: S2 in air-gap (low) -> Coil-1 is fired, S2 metal or disconnected (high) Coil 2 is fired.
AMM-P1 engine-mode #1 1-cylinder engine mode and 2-cylinder single-fire (fired separately).
One-slot trigger input to S1, output to Coil-1.
Engine mode #1 can also drive 2 cylinder separately of random angle. In this case S1 fires Coil-1 and S2 fires Coil-2. Distance between S1 and S2 determines cylinder angle.
AMM-P1 engine-mode #2 2-cylinder engine mode (straight 2) and 4 cylinder distributorless.
2-slot trigger input to S1 fires Coil-1 (dual-coil, both cyl. fired simultaneously) -> Straight 2-cylinder operation.
Single-slot crank-trigger also possible in mode #2.
2-slot trigger input to S1 fires Coil-1 plus input to S2 (90deg. offset to S1) fires Coil-2. -> Distributorless straight 4-cylinder operation.
AMM-P1 engine-mode #3 3-cylinder engine mode. Using 3-slot trigger disc.
Engine-modes #3 through #12 are for engines with ignition distributor and evenly fired cylinders (straight engines).
Trigger signal always input to S1 while both outputs Coil-1 and Coil-2 fire simultaneously. Since only one coil output is needed, the other can serve as a spare. Both outputs can also be connected in parallel for driving extra hot coils in racing applications. Note: this engine-mode not applicable for Triumph 3-cylinder motorcycle-engines (no distributor), however 3x mode #1 would work.
AMM-P1 engine-mode #4 4-cylinder engine mode.
Useful for about 95% of all Oldtimer cars around. Audi, BMW, Opel, Ford, Mercedes, VW, Renault, Peugeot, Citroen, this list would be endless.
Trigger (4-slot) into S1, output on Coil-1 and Coil-2.
AMM-P1 engine-mode #5 5-cylinder engine mode.
As used on some Audi, Rover, Volvo, etc. engines. 5-slot trigger signal to S1, simul output signal present on Coil-1 and Coil-2 outputs.
AMM-P1 engine-mode #6 6-cylinder engine mode.
Jaguar, BMW, Mercedes, Porsche, Rolls-Royce and many other 6-cylinder engines. V6 included.
AMM-P1's simul-coil outputs come in useful for Porsche dual-distributors (firing 2 spark-plugs per cylinder).
AMM-P1 engine-mode #7 7-cylinder engine mode:
Rare engine configuration, but useful for rotary engines as well as experimental engines.
AMM-P1 engine-mode #8 8-cylinder engine mode:
Perfect for the many many V8 and in-line 8 engines.
AMM-P1 engine-mode #9 9-cylinder engine mode:
9-Cylinder rotary engines. !! Not FAA approved !! Useful for model-aircraft and ... tractor pulling :)
AMM-P1 engine-mode #10 10-cylinder engine mode:
Many fast in-line and V10 engines deserve to run much better. AMM-P1 is the answer.
AMM-P1 engine-mode #11 11-cylinder engine mode:
Even bigger and more powerful rotary engines.
AMM-P1 engine-mode #12 12-cylinder engine mode:
Jaguar, Ferrari, Lamborghini, Rolls-Royce V12 engines. Some use dual-distributors in order to increase ignition dwell time and thus spark-energy. In a dual-distributor V12 engine each distributor controls 6 cylinders. This configuration needs 2 separate AMM-P1 units. One for each distributor. Since one distributor controls 6 cylinders only, both AMM-P1 units must be set to engine-mode #6!
Converting existing ignition distributors
We supply the necessary parts so that you can convert an exisiting ignition distributor to be used with the AMM-P1 system, while keeping original external appearance. Conversion starts by removal of the mechanical advance system, so that you have an empty distributor with a turning shaft. On this shaft our adapter is installed. The adapter holds the trigger-disc and the original distributor finger. Above or below the adapter a sensor-plate is installed. This sensor plate can be the original points-plate or be custom manufactured. On the sensor-plate out custom Hall-sensor is installed. AMM-P1 supports clockwise and counter-clockwise operation.
Attention
High-Voltage on the secondary and primary sides!
Designed to unleash the full inherent power and performance of almost any engine, disregarding local laws/regulations of any kind.
Since the AMM-P1 supports a very high degree on adjustability, you should know your engine, you should know how to set the dials, in other words you should know which amount of ignition advance is good for your engine and which setting may be unsuited or even harmful for your engine.
How it came
ALTMANN MICRO MACHINES is a manufacturer of high-performance ignition systems since 1995.
Altmann developed the world's first ignition with integrated immobilizer in 1995 (AMM-IMMOGNITION) as well as the world's first parametric control ignition system in 1999 (AMM-P3). He is also the first manufacturer of ignition systems who backed up his products by a 5 years limited warranty at a time when competition offered 90days!
As more and more people became aware of the superior engine performance obtainable through an Altmann ignition, systems were ordered for specialty and race engines. All these engines needed different advance curves and also had different sensor geometries, cylinder counts, etc. This caused a high load of work and Altmann soon had to refuse special requests as they were much interfering too much with main business (systems for Harley-Davidson motorcycles).
However it was considered through all this time, that once semiconductor technology progressed sufficiently, it would be possible to create and offer an ignition system that is universally applicable for almost any kind of engine, without sacrificing performance in any way.
This time has come now, and this ignition system is the AMM-P1!
Please use out email for questions and ordering.
Shown below (for completeness): Harley-Davidson M8 engine powered by AMM-P3M8 ignition system, but could also use AMM-P1 or AMM-P2 ignition.
ALTMANN MICRO MACHINES ... Dipl.-Ing. Charles Altmann ... Erlenstr. 15 ...42697 Solingen ...Germany
phone +49-212-233-7039 ... email